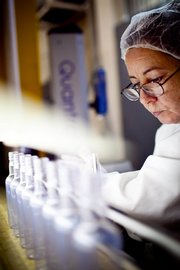 How about a bottle of the '02 Chateau Plastique?
The ubiquitous 750-milliliter glass wine bottle is starting to get competition from a plastic upstart, both on retail shelves and at a few restaurants.
The bottles carry a "use by" date — plastic doesn't provide quite the same seal as glass — and as such aren't likely to find their way into the cellars of serious wine enthusiasts.
For those who aren't as picky, however, the wine is likely to cost less. And oenophiles say that for wine that hasn't expired, the taste will be the same.
"The wine doesn't know what package it is in," said W.R. Tish, a wine educator who writes a blog called Wineskewer. "It tastes the same whether it is in a plastic bottle, a plastic bladder inside a box, or a glass."
At AKA Bistro in St. Helena, in California's Napa Valley wine country, owner Robert Simon will begin pouring a Cabernet Sauvignon out of plastic bottles this month for by-the-glass customers.
Peralta Winery will sell him 1-liter plastic bottles for the same price as a 750-milliliter glass bottle. That means he can sell two extra glasses for about $7 to $8 each. And he won't have to worry about breaking bottles.
"My decision will be based on the same factor as any wine — taste," said Simon. "Consumers only care about what's in the (drinking) glass."
EnVino, a plastic-wine-bottle venture in Burlingame, Calif., points out that the containers weigh about one-eighth as much as a comparable glass bottle and take up 20 percent less space. That enables winemakers to save fuel by shipping 30 percent more wine per truck, said Patrick Field, a partner in EnVino.
New Leaf Wine Co. in Napa, Calif., is testing sales of wine packaged in plastic EnVino bottles. A small test in Northern California's Nugget supermarket chain last year "did great," said Jason Taormino, president of New Leaf.
He would like to launch it at a broader selection of retailers and is looking for "a large distributor who is willing to work with us on this."
Copyright 2018 The Lawrence Journal-World. All rights reserved. This material may not be published, broadcast, rewritten or redistributed. We strive to uphold our values for every story published.