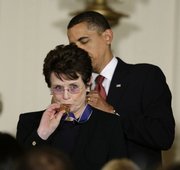 Washington — Sidney Poitier could have been in character, prepping for a role on the big screen or the stage. He stood ramrod tall, eyes fixed straight ahead. He was focused and characteristically stoic, with no hint of emotion showing on his face.
Except, this was not a movie. Or even a rehearsal.
The acting legend came to the White House on Wednesday for a once-in-a-lifetime kind of event, to pick up an award from President Barack Obama. Not just any award; Poitier and 15 others were getting the highest honor the U.S. can give a civilian.
Even as a smiling Obama approached, holding the blue-ribboned medal, Poitier still showed no emotion.
Even as an announcer described the actor's rise from the tomato farms of the Bahamas, where he grew up, and the talent that led him to Broadway, Hollywood and global acclaim and fame as a humanitarian and diplomat.
Only when Obama clasped the medal around Poitier's neck did the slightest curl of the mouth appear on his face.
Awarding the first such medals of his term, Obama said the 16 people chosen for the honor are "agents of change."
"What unites them is a belief ... that our lives are what we make of them, that no barriers of race, gender or physical infirmity can restrain the human spirit, and that the truest test of a person's life is what we do for one another," Obama said.
"The recipients of the Medal of Freedom did not set out to win this or any other award. They did not set out in pursuit of glory or fame or riches," he continued. "Rather they set out, guided by passion, committed to hard work, aided by persistence, often with few advantages but the gifts, grace and good name God gave them."
Civil rights icon the Rev. Joseph Lowery and tennis great Billie Jean King, one of the country's first openly gay major sports figures, joined former Supreme Court Justice Sandra Day O'Connor and retired Anglican Archbishop Desmond Tutu of South Africa in receiving the honor.
Another medal recipient, veteran Sen. Edward M. Kennedy, D-Mass., was home battling brain cancer and mourning the death Tuesday of his sister, Eunice Kennedy Shriver. His daughter, Kara, accepted the award for him.
Obama gave posthumous honors to former Republican Rep. Jack Kemp of New York, the quarterback-turned-politician who died in May, and gay rights activist Harvey Milk, who was assassinated in 1978.
The other recipients were:
• Nancy Brinker, founder of Susan G. Komen for the Cure, a leading breast cancer grass-roots organization.
• Dr. Pedro Jose Greer Jr., assistant dean of academic affairs at Florida International University School of Medicine and founder of the Camillus Health Concern, which treats thousands of homeless patients annually in Miami.
• Stephen Hawking, the Cambridge University physicist and mathematician known for his work on black holes and his best-selling 1988 book "A Brief History of Time." He has been almost completely paralyzed for years and communicates through an electronic voice synthesizer.
• Joe Medicine Crow, the last living Plains Indian war chief, who fought in World War II wearing war paint beneath his uniform. Obama met Medicine Crow during a presidential campaign stop last year, and was adopted as an honorary member of the Crow tribe.
• Chita Rivera, actor, singer, dancer and winner of two Tony awards.
• Mary Robinson, Ireland's first female president and one-time U.N. high commissioner for human rights. Robinson's honor upset some Jewish groups and congressional supporters of Israel, who say she is biased against the Jewish state.
• Dr. Janet Davison Rowley, professor of medicine at the University of Chicago. She was the first scientist to identify chromosomal translocation as the cause of leukemia and other cancers.
• Muhammad Yunus, the 2006 Nobel Peace Prize laureate for his global, pioneering work extending "micro loans" to poor people who don't have collateral.
Copyright 2017 The Associated Press. All rights reserved. This material may not be published, broadcast, rewritten or redistributed. We strive to uphold our values for every story published.