Who's eligible
The Special Supplemental Nutrition Program for Women, Infants and Children provides nutritious foods, health education and referrals to health and other social services at no charge.
Here are the eligibility requirements:
• Recipients must be a pregnant, breast-feeding or postpartum woman, infant, or child under age 5.
• Your income must be at or below 185 percent of the federal poverty level. A household of two can earn $26,955 and a household of four can earn $40,793.
• You must have a nutrition risk, which is determined by a health professional. The risks can be medically based such as anemia, being underweight, being overweight or having a history of pregnancy complications. They also include dietary risks such as failure to meet dietary guidelines or inappropriate nutrition practices.
For more information or to schedule an appointment, call the Lawrence-Douglas County Health Department's clinic at 843-0721 or e-mail wicinfo@ldchealth.org.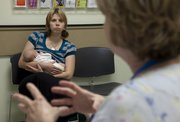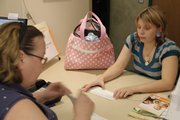 Gayle Sherman, a Lawrence nutritionist, raised her arms in the air and shook her fists.
"Yeah!" she said enthusiastically. She is happy about the first major change in the foods offered by the "Special Supplemental Nutrition Program for Women, Infants and Children" since its founding 35 years ago.
The federally funded program, commonly known as WIC, provides free, healthy foods to low-income pregnant, postpartum and breast-feeding women, infants and children up to age 5 who qualify.
Each month, WIC serves 8.7 million participants nationwide, 77,000 in Kansas and 1,550 in Douglas County. Half of the babies born in the United States are served by WIC. In Kansas, it's just slightly less, at 48 percent.
In 2008, the WIC program provided $1 million worth of groceries in Douglas County and $50.5 million in Kansas.
Last week, the participants gained access to a greater number of healthy choices. In general, these choices are lower in fat, higher in fiber and help families meet the U.S. Department of Health and Human Services' Dietary Guidelines.
For example, the program now pays for fruits and vegetables, which were not covered before. It will pay for only whole-wheat breads, not white. Instead of whole milk, women and children older than age 2 will receive low or nonfat milk only.
The new food package also promotes breast-feeding by offering the greatest number of foods to moms who breast-feed exclusively, as well as providing baby food meats to breast-fed infants at 6 months of age.
"It was a long process, but well worth it," said Sherman, WIC coordinator for the Lawrence-Douglas County Health Department for 12 years. "It's an exciting move."
As with a lot of government processes, it took a long time — 10 years — to reach implementation. The deadline for nationwide implementation is Oct. 1, but Kansas' plan took effect last Monday.
The food is provided through vouchers that are issued by local health departments and are based on nutrition needs, not income. The average amount provided per client is $58.66 per month, and for a formula-fed baby it is $110 per month.
Food labels
David Thomason, state director of nutrition and WIC services, said the food program can help everyone by steering them toward healthy food choices. Shoppers just need to look for the WIC-approved food labels in participating stores. There are 12 participating stores in Douglas County.
"We are looking at helping folks change their behaviors with regards to food and how they eat," Thomason said. "As more folks are aware of the healthy choices that are provided by WIC, maybe they will begin choosing themselves to eat better and eat more fruits and vegetables. The cereals that have WIC labels on them are lower in sugar."
Sherman said obesity is a problem nationwide and in Douglas County.
"We are seeing it in younger and younger children. A few months ago, I saw a 3-year-old that the doctor had screened for diabetes. This child was large for her age," she said. "So it's sad when our habits that we form are causing more and more health problems, earlier and earlier."
Offering education
The WIC program addresses obesity and chronic conditions through education as well. The goal is to reach children as early as possible.
"It is a program designed to promote healthy habits for a lifetime," Sherman said.
Clients meet with a dietitian, who reviews their diets and health behaviors. The dietitian's advice can run the gamut: how to lose weight, how to get a child to eat at dinnertime, how to shop on a budget and how to breast-feed. Clients also get free referrals to health and social service agencies.
WIC employees often recommend immunization shots when they see children who aren't up-to-date on the required ones. The program also provides free classes such as Quick Meals For Busy Families, Pickles and Ice Cream — Getting Ready for Your Special Delivery, and Goo Goo Faces — Starting Your Baby on Solids.
Lawrence resident Dana Holloway, 39, described WIC's services as beneficial. She has four daughters: Sabrina, 9, Samantha, 4, Savanna, 2, and Sophia, 1. Three of the girls are enrolled in the WIC program.
"It's really helpful for me as a mom because it reinforces maybe some things that I have forgotten like serving sizes and picking out which foods are the best for the kids," Holloway said.
She said the classes also helped connect her with other mothers. She found the breast-feeding classes particularly helpful.
"You need to talk to other mothers that have gone through it and they can help answer questions," she said. "They can help reassure that you are doing fine."
Holloway said the dietitians have a lot of good ideas. For example, they suggested that she make teething rings out of extra cereal.
"They're always very encouraging and helpful," she said.
Tough times
Holloway is a stay-at-home mom and her husband, Bill, works. She said about half of the employees have been laid off at his workplace, so they are nervous. She said knowing that WIC was available to help put healthy food on the table was reassuring in such uncertain times.
The Holloways are not alone. During the past couple of years, enrollment in the WIC program has grown about 10 percent statewide and 14 percent in Douglas County. Last October, the county served a record 1,621 clients. The state hit a record in April at 77,708.
"In the last few months, I've talked to more people that have been going through bankruptcy than I've ever talked to before, so a lot of people are really hurting out there," Sherman said.
To be income-eligible for WIC benefits, a household may earn up to and including 185 percent of the Federal Poverty Guidelines. For a family of four, that's $40,793 annually and for a family of two, it's $26,955.
"We encourage moms to apply for WIC the moment they know they are pregnant," Thomason said. "It's a preventative health program, so it helps ensure healthy moms and especially brand new babies."
Nationally, one in four pregnant women are in WIC. Numerous studies have shown that pregnant women who participate have longer pregnancies, leading to fewer premature births; have fewer low birth-weight babies; and experience fewer fetal and infant deaths.
Both parties in Congress strongly support WIC and appropriated $6.86 billion for the program this year, up 70 percent from $4 billion in 2000.
New mom Christina Gordzica, 23, Lawrence, described the program as a godsend as she held her 3-week-old daughter, Alyssa Armstrong. Gordzica enrolled in the WIC program in April, and it has provided her with healthier foods and advice on breast-feeding.
"It's just there to back you up and really help you out," she said. "This has been a huge lifesaver."
Copyright 2018 The Lawrence Journal-World. All rights reserved. This material may not be published, broadcast, rewritten or redistributed. We strive to uphold our values for every story published.