Photo Gallery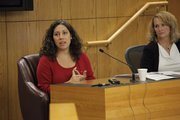 Matthew Jaeger trial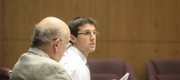 More coverage of the trial of a former Kansas University student accused of beating and kidnapping his ex-girlfriend.
A forensic investigator testified Friday afternoon that the blood stains at the apartment of Matthew Jaeger's ex-girlfriend supported Jaeger's version of what happened the night Jaeger is accused of attacking her.
"I would have to conclude there's no evidence in the blood of a struggle," said Paulette Sutton, a Memphis-based investigator and blood stain expert.
On the eighth day of testimony, jurors heard from defense witnesses Sutton and Los Angeles-based medical investigator James Kent, who said the woman's injury more likely was caused by a fall on a bed rail instead of a kick or punch.
Prosecutors allege that Jaeger, 24, a former Kansas University student, broke into the woman's northern Lawrence apartment and found his ex-girlfriend with another man, Dylan Jones, on the night of Oct. 9, 2007.
Then, they say, after chasing Jones away, Jaeger re-entered the apartment and attacked his ex-girlfriend, who is now 23. They claim he severely mutilated her pelvic region and dragged her from her apartment into a car driven by his friend, Evan Carroll. Police later stopped the car and the men said they were trying to take her to the hospital.
But Jaeger, who now lives in suburban Chicago, testified Thursday that he never went into her apartment a second time and that his ex-girlfriend told him she fell getting out of bed onto a bed rail during the commotion.
Jaeger faces charges of aggravated kidnapping, aggravated battery, aggravated burglary and making a criminal threat.
Defense attorneys on Friday presented their case that the woman's injuries could have occurred from a fall on the railing and that Jaeger did not force her from the apartment.
Kent's testimony at times resembled a physics lesson as he drew his calculations on the board for jurors explaining that he ruled out a punch or kick for causing the woman's injuries to her groin. He said that Jaeger would have had to generate force equivalent to either a Tae kwon do expert or an Olympic boxer.
According to earlier testimony in the trial from police, the woman's bed was broken before the incident, including a side railing emerging apart from the mattress.
Kent said that the size of the wounds in her pelvic region appear to support a fall on the railing, according to photographs he has seen of the bed.
"Within the limits of the possibility I have to work with, the fall on the bed rail is the most probable cause of the injury," Kent said.
He also testified that Jaeger didn't have enough time to strangle his ex-girlfriend.
"I don't see any physical or document evidence that would appropriately support that she was ever choked into unconsciousness," he said.
Last week, the victim testified that Jaeger choked her until she was unconscious. She said she woke up later with injuries. Doctors who treated her at Lawrence Memorial Hospital have testified that the injuries to the exterior of her pelvic region were consistent with blunt force trauma, rather than a "straddle injury" or fall on a bar.
Also on Friday, Jaeger's older sister, Veronica Jaeger, testified that her brother's ex-girlfriend called her about a month after the incident and told her Jaeger insisted on taking her to the hospital that night and "in no way indicated that she was forced against her will."
Jaeger's sister also said the woman told her she still cared for her brother "and still loved him."
The defense rested its case after Sutton, the blood stain expert, testified that the stains at the woman's apartment did not support a struggle occurring there.
She also said the evidence was more in line with Jaeger's testimony about only entering the apartment once and helping her to the car, rather than what his friend, Evan Carroll, said about Jaeger going back into the apartment after he had already chased away Jones, the man his ex-girlfriend was with that night.
The blood stains led from the apartment complex parking lot, up the exterior building steps and into the woman's apartment back to her bedroom.
"Did you find anywhere in the forensic evidence signs of a struggle?" defense attorney Pedro Irigonegaray asked.
"No, sir," Sutton said.
Prosecutors Nola Wright and Jason Hart, both Kansas assistant attorneys general, plan to call rebuttal witnesses in the case beginning at 9 a.m. Monday. Chief Douglas County District Judge Robert Fairchild said closing arguments likely would be later Monday.
Copyright 2013 The Lawrence Journal-World. All rights reserved. This material may not be published, broadcast, rewritten or redistributed. We strive to uphold our values for every story published.