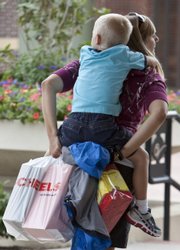 New York — It's still early, but analysts' grades already are coming in: the back-to-school shopping season is off to a lousy start.
"Back-to-school selling hasn't really started yet," said John Morris, BMO Capital Markets analyst, based on recent conversations he's had with store executives. "Retailers have a very foggy picture."
The sluggish start is expected to show up in retailers' July sales reports, to be released today, as job worries heighten.
By the end of July, sales of items like jeans and other back-to-school merchandise usually have started kicking in. But this year, it won't be until the third or fourth week of August before stores have a sense of the best sellers because shoppers appear to be delaying their purchases, Morris said, even though back-to-school marketing began in mid-July. That will make it difficult for retailers to reorder popular items.
Craig R. Johnson, president of Customer Growth Partners, a retail consultancy, described the season so far as "late and lousy." He added, "Shoppers are still holding back."
Complicating matters are several one-time factors:
• The shift of the sales-tax holidays from July to August in most of the 14 states that have them because of a late Labor Day weekend has stolen momentum from July.
• Lean — and deeply discounted — inventories are holding down sales as stores aim to protect themselves from getting stuck with piles of leftovers.
• The uptick in car buying spurred by the government's "cash for clunkers" program might siphon away sales from other categories like clothing and home furnishings, according to Frank Badillo, senior economist at consulting group TNS Retail Forward.
Michael P. Niemira, chief economist at International Council of Shopping Centers, estimated that same-store sales, or sales at stores open at least a year, will fall 5.5 percent in July, compared with a year ago. That would be slightly worse than June's 5.1 percent decrease, according to the ICSC-Goldman Sachs index.
The figures do not include the results from world's largest retailer, Wal-Mart Stores Inc., which stopped reporting same-store sales figures after announcing April results.
Same-store sales are sales at stores open at least a year and are considered a key indicator of a retailer's health.
A decline in July same-store sales would mark the 11th consecutive monthly drop when excluding Wal-Mart results — which had buoyed the industry in the spring before it stopped reporting monthly numbers.
Merchants are seeing indications that sales decreases are easing. However, business remains weak even amid signs of economic stabilization.
Real estate reports last week showed that home sales and prices may be on the rebound, and the shrinkage in the economy as measured by the gross domestic product eased considerably in the second quarter.
But a worrisome sign for merchants — and the broader economy of which consumer spending makes up 70 percent — is a 1.2 percent decline in consumer spending and a 5.2 percent increase in the savings rate in the second quarter.
That's been driven by worries about a weak job market that have hammered consumers' confidence. When the Labor Department releases its monthly jobs report Friday, economists expect it to show unemployment ticked up to to 9.6 percent in July, close to its post-World War II high.
While some analysts were encouraged that U.S. auto sales in July climbed at their highest pace in 11 months, helped by the government's rebate program, it hardly signals the beginning of an overall spending recovery.
What it shows, according to Johnson, is that shoppers are looking for "extreme value, whether at the dollar stores or Wal-Mart— or in the cash-for-clunkers program."
Against that backdrop, analysts say they are using this back-to-school season as a litmus test for the critical Christmas period, which accounts for as much a 40 percent of annual sales for many merchants.
Johnson said he and his team of consultants will be standing outside stores for the rest of back-to-school season examining what's in carts to see whether shoppers are buying ahead of need and at full price.
"We will be looking at whether shoppers are not just buying the basic supplies and apparel but whether they're getting multiple outfits and pairs of shoes," he said, which could signal that shoppers are feeling better about spending again.
But Johnson doubts that will happen.
"Everyone is focusing on a bargain," Johnson said."People are focusing on necessities."
Copyright 2018 The Associated Press. All rights reserved. This material may not be published, broadcast, rewritten or redistributed. We strive to uphold our values for every story published.