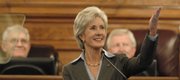 Kathleen Sebelius is the nominee for Secretary of Health and Human Services in Obama's Cabinet. She has served as Kansas' governor since 2002 and before that was insurance commissioner and a state representative.
Fifteen months ago, Democratic presidential candidate Barack Obama came to Kansas and received the endorsement of Gov. Kathleen Sebelius, who then spent a significant portion of her time helping Obama get elected.
That was before the economy tanked, and before the newest round of swine flu.
Now, Sebelius is leaving for Washington, D.C., to become secretary of health and human services in Obama's cabinet.
Sebelius, 60, was confirmed late Tuesday afternoon by the Senate for the post by a 65-31 vote. She has resigned as governor, and Gov. Mark Parkinson was sworn in at 7 p.m. Tuesday to fill the 18 months remaining in Sebelius' term.
Sebelius handed in her resignation letter to Secretary of State Ron Thornburgh.
Sebelius leaves a state reeling with its highest unemployment in 26 years -- 6.5 percent -- and a $328 million budget deficit that lawmakers, returning Wednesday for a wrap-up session, will have to mend with Parkinson.
Parkinson, 51, is a former Kansas Republican Party chairman, who switched parties in 2006 to run with Sebelius in her re-election bid. Some Republicans were angered by Parkinson's switch, but those feelings seem to have dissipated somewhat. For his part, Parkinson has said he is ready to get to work as governor but that he has no intention to seek the job in 2010.
Sebelius will be taking the reins of a health agency amid an outbreak of a new strain of swine flu that has claimed more than 150 lives in Mexico, and sickened more than 50 people in the U.S. — including two in Kansas. Sebelius also is expected to be a key figure in moving through a charge from Obama to overhaul the nation's health coverage system.
During the past year, much of the Kansas political world has been on Sebelius watch. For months, she was touted as a possible vice presidential nominee.
When Obama picked Joe Biden as his running mate and won the November election, talk turned to what job Sebelius would fill in the Obama administration.
But nothing substantial turned up until it was disclosed that Obama's first choice for health and human services secretary Tom Daschle failed to pay $140,000 in taxes.
In March, he picked Sebelius, the daughter of a former governor of Ohio who married into a famous Kansas political family. She started her political career in Kansas as a state legislator from Topeka, then won statewide twice as insurance commissioner before running for governor in 2002.
Although a Democrat in a predominantly Republican state, she was often seen as a reformer who could work with members of both parties.
Copyright 2018 The Lawrence Journal-World. All rights reserved. This material may not be published, broadcast, rewritten or redistributed. We strive to uphold our values for every story published.