Photo Gallery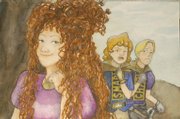 'The stubborn princess'
Exhibit
Tracy Bowersox's art will be featured in this year's Lawrence Public Schools Art Students Exhibition. The exhibition opens Monday and runs through May 15 at the Lawrence Arts Center, 940 N.H.
For more than a decade, Jodi Bowersox has been trying to get her son, Tracy, to work on the children's book she wrote.
"I've been after Tracy for a number of years to illustrate it," Jodi says.
She finally talked him into it — thanks to an art credit Tracy needed for the Lawrence Virtual School, where he is a student.
And that's how "The Stubborn Princess" became one step closer to reality.
Jodi wrote the text of the story in 1996. It was her second children's book. The first was "A Tale of Two Kittens" under the name J.B. Stockings.
The newer book is about a princess with long hair who refuses to have it brushed. It ends up becoming such a mess that a bird lays eggs in it. Eventually, the birds hatch and fly away with the princess.
"It's a story of coming to terms with what life requires," Jodi says. "And to be who you want to be, you have to do the little things."
The mother and son duo, who live near Tonganoxie, decided to take on the art project together, with help from Krista Hepford, the LVS art teacher.
Tracy has drawn since he was in elementary school, focusing especially on anime-style characters. Jodi is a watercolor artist who paints portraits of clients' pets.
So they decided to build on their strengths for "The Stubborn Princess." Tracy would draw the sketches, and Jodi would add the color. They started in September and hope to be finished soon.
They admit their artistic differences sometimes show through.
"I draw the pictures, and then I don't think much about it," Tracy says. "Once they're painted, they sometimes look different than I imagined."
They had guidance from Hepford, who operates from Lawrence through an online classroom, complete with a monitor and video camera so she can watch her students work.
"I just look over their shoulder and see how they're doing," she says. "It's just like the regular classroom."
And when those artistic disagreements come up, the Bowersoxes know where they can resolve them.
"I encourage both of them to come to me when they have a disagreement," Hepford says. "They have a built-in mediator."
The drawings in the book have a dark quality to them, or at least they get darker as the story goes on. Tracy says the biggest challenge was keeping the ongoing characters looking the same as the story progresses — and that's his biggest advancement through the class.
"Doing the characters over and over was something I couldn't do before," Tracy says.
Hepford says she was able to automatically start teaching Tracy advanced skills — and motivation wasn't an issue.
"I think Tracy came to me talented and was already one of those students who enjoyed sketching on his own," she says. "He didn't need me to say, 'Hey, you need to practice this more.' I didn't have to worry about teaching him the basics."
As for the future of the book, Tracy and Jodi are hoping to find a publisher — but they know it won't be easy.
Still, Jodi says she's convinced her son's work will attract interest.
"I think he does great work," she says. "I think it would stand up against any book I'd pick up in the bookstore."
Hepford also has hopes for its future.
"I am not a publisher, but I'm going to buy at least two copies of the book," she says. "I have a 6-year-old daughter who will love this book."
Copyright 2018 The Lawrence Journal-World. All rights reserved. This material may not be published, broadcast, rewritten or redistributed. We strive to uphold our values for every story published.