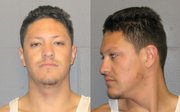 Two 25-year-old Kansas City, Kan., residents were charged Thursday in connection with a high-speed chase Wednesday, during which the occupants of the suspect car switched seats, prosecutors said.
Douglas County prosecutors charged Juaquin Jarado Gutierrez and Angelica Tapia Murillo Flores with multiple offenses, including reckless driving and fleeing or attempting to elude law enforcement, court records state.
In addition, Gutierrez was charged with driving while under the influence of alcohol or drugs. Flores was charged with following another vehicle too closely.
The suspects were arrested by Lawrence police after a chase that spanned Douglas and Leavenworth counties and ended about 6:30 p.m. Wednesday near the off-ramp of Kansas Highway 7 and the Kansas Turnpike, or Interstate 70, close to the Leavenworth County-Wyandotte County border. Speeds in excess of 100 mph were reported.
"The Kansas Highway Patrol successfully deployed spike strips on I-70," said Sgt. Bill Cory, Lawrence police spokesman. "That caused the two right tires to go, and the car eventually stopped."
The chase started at 5:51 p.m. Wednesday in Lawrence after the suspect car caused a non-injury chain-reaction car crash at 19th and Alabama streets, police said.
Gutierrez made his first appearance in court Thursday afternoon, where his bond was set at $3,500, court records state. He's being detained in jail and is scheduled to return to court Tuesday for an appearance in front of District Court Judge Robert Fairchild.
Flores was released from jail on $950 bond Thursday and is scheduled for a first appearance in court at 3 p.m. May 7, said Cheryl Wright, District Attorney Charles Branson's spokeswoman.
Copyright 2018 The Lawrence Journal-World. All rights reserved. This material may not be published, broadcast, rewritten or redistributed. We strive to uphold our values for every story published.