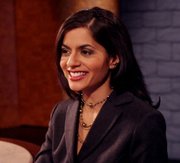 Earth Day episode
Here's where to catch Simran Sethi and the other guests on Oprah's Earth Day show today:
4 p.m. on KSNT, KMBC and KMBC-HD 9 p.m. on KCWE and KCWE-HD
For more information on Simran Sethi, visit simransethi.com.
As countless millions across the world tune into "The Oprah Winfrey Show" today, fans in Lawrence will see a familiar face.
Simran Sethi, the Lacy C. Haynes Visiting Professional Chair at Kansas University's School of Journalism and Mass Communications, will be a guest on Winfrey's Earth Day show. Sethi is also a member of the city's Sustainability Advisory Board and a chair on the Mayor's Climate Protection Task Force.
The theme of the show is "Earth Day 2009: Go Green, Save Money."
On the show, Sethi is supposed to offer ideas to help people save money and make environmentally friendly decisions.
"We have a finite amount of resources, and there's been a concern as of late that if we have to be environmentally friendly, it comes at a huge price that it is unaffordable and unattainable for everyday folks," Sethi said. "This show is designed to help people see that this is absolutely within their reach."
She said she'll focus on ways to reduce energy consumption and waste in common places like the kitchen and the living room.
Sethi said the show is a great opportunity to share environmental messages with a large audience. "The Oprah Winfrey Show" reaches 44 million U.S. viewers, in addition to 143 other countries, a week.
This will be Sethi's third appearance on the show. She has also contributed segments to the "Today Show," CNBC and the History Channel.
Copyright 2018 The Lawrence Journal-World. All rights reserved. This material may not be published, broadcast, rewritten or redistributed. We strive to uphold our values for every story published.