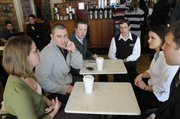 The Lawrence Chamber of Commerce Young Professionals Networking Group celebrates its fifth birthday this year with plans for a packed program and changes to ensure the group's future development.
The organization had its first get-together in August 2004, when a group of young Lawrence professionals tailgated at a Kansas City Royals baseball game.
"The group provided opportunities for like-minded young professionals to socialize and bounce around ideas and experiences," said one of the group's original members, Ryan Wedle, market manager at Landmark National Bank.
Although a Chamber of Commerce employee was loosely attached to the group, chamber membership wasn't required to join the group. Volunteers organized most of the events and activities.
Megan Poindexter, the Lied Center's director of development, joined the group in 2006 when she moved to Lawrence.
"I'd just changed my career path and missed the tight-knit group of professional colleagues I'd left behind in Kansas City," Poindexter said.
"I was on a huge learning curve and knew I needed to learn more about the Lawrence community, its history and local businesses. I wanted to meet other like-minded professionals around my age in a casual networking environment. CYPN was the perfect fit for me."
CYPN received a boost when the chamber hired Adam Handshy in January 2008. He became directly involved with the group's volunteers and initiated conversations about plans to expand the committee and develop the group's program.
Poindexter was thrilled to be invited to join the planning committee.
"I saw it as a huge opportunity to help develop and grow the group that was so helpful and engaging for me," she said.
Trent Peter, an agent/producer with the Ron King Agency, is another enthusiastic planning committee member.
"I originally joined CYPN to socialize, build relationships and become more involved in the Lawrence community," he said.
Handshy acknowledged the hard work and enthusiasm of the planning committee in the past year.
"After much discussion and deliberation, we've come up with some changes we believe will really benefit the program and provide greater professional development and networking opportunities for members," he said.
Included in that: Future participation will require membership in the Chamber of Commerce, or a chamber member's representative.
In addition to the events already held this year, there will be a wine tasting and etiquette dinner, a volunteer fair, an intergenerational networking panel/mixer, a potluck summer party, end-of-year party and other networking and social events. Leadership and training events in conjunction with the chamber's Leadership Lawrence program are also planned.
The planning committee members say they're excited and confident about the group's future growth and development.
"We're all concerned about the economy and budget cuts and accept that changes to the CYPN may create growing pains at first," Poindexter said. "We believe they will provide the group with greater long-term direction. The changes and introduction of membership fees will enable us to continue to build and support the unique aspects that make Lawrence such a great community for young professionals to live and work."
Copyright 2018 The Lawrence Journal-World. All rights reserved. This material may not be published, broadcast, rewritten or redistributed. We strive to uphold our values for every story published.