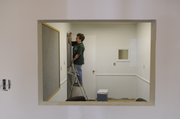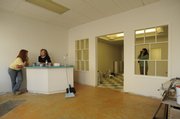 At first glance, it might not have seemed much like an art gallery.
The space at 1109 Mass. wasn't in pristine condition and had turquoise walls, a black ceiling and graffiti in the back room.
But members of the Lawrence Art Guild saw something else: potential.
"We always wanted a gallery of our own," says Linda Baranski, president of the 280-member guild.
And with the lease signed more than two weeks ago, the guild now has exactly that. The space, which previously was home to the Solidarity! Revolutionary Center & Radical Library, now will be called the 1109 Gallery.
But there's a lot of work to be done before it opens for its first show in early May, with a show in conjunction with Art in the Park May 3. Besides new wall colors — the turquoise and black are going, along with the paintings on the back walls — more than 90 volunteers and contractors have been working to do everything from reconfiguring the size of an interior window to installing new flooring.
Baranski says she wants the gallery to change shows every six weeks or so. Those shows will be open to both members and nonmembers of the guild, and will include both more traditional and nontraditional exhibitions. One nontraditional show proposed is a "green" show where works must be made of a certain percentage of recycled materials.
In addition to the gallery space, guild leaders are hoping to hold workshops and small performance events, as well as organize a lending library for art books.
To pay for the space, Baranski says the guild has been saving money over time with hopes members would find the perfect location. Hours will be limited — tentatively 10 p.m. to 5 p.m. Wednesday through Saturday, and 1 p.m. to 5 p.m. Sunday — and will be staffed by volunteers.
Baranski says she's confident the bad economy shouldn't be a deterrent for opening a new gallery.
"We really feel there's a revitalization in art around here," she says. "The way I'm thinking, and I may be wrong about this, but when the economy is bad, people want to stay at home more, so they're working to make their home more pleasant."
She also adds that the gallery's goal is to showcase area artists.
"We're not in it to make a profit," she says. "We're in it to show art."
For galleries, times might not be as tough as people might imagine, says Sally Piller, who owns 6 Gallery, 716 1/2 Mass.
"Business is pretty good," she says. "Buying a good work of visual art is a way to spend your money on something that can be enjoyed forever, and at least the value is not likely to depreciate, and it may even appreciate. Real art collectors buy quality art no matter what. They love it and can't help themselves. They find a way."
She says having more galleries in town might actually help business, as Lawrence seeks to be a tourist town for the arts.
"It gives us the opportunity to collaborate to get folks to come to Lawrence to shop for art," she says. "I'm always thrilled when somebody else decides to take the plunge. ... There are enough niches in the arts to support tons of galleries without us stepping on each other's toes."
One of those filling a niche is Wonder Fair Art Gallery, 830 Mass. The gallery, which celebrates its one-year anniversary in March, has showcased works from around the country in its first year.
"The economy definitely has an impact," says owner Eric Dobbins. "But as the days keep ticking more and more people are getting turned onto Wonder Fair and what we're doing down here. I look at it like this: More people than ever are spending fewer dollars than ever. So we're staying pretty consistent."
He's not sure the long-term impact of the economy, but the functional art items the gallery sells seem to be doing well.
"Art means something different to everyone," Dobbins says. "For some, it's the first to go. For a few, it might be the last. Around here, it's certainly true that artists are selling less work. People are working smaller. Here are Wonder Fair, we're developing a variety of art objects that can be appreciated for their function as well as aesthetic."
Copyright 2018 The Lawrence Journal-World. All rights reserved. This material may not be published, broadcast, rewritten or redistributed. We strive to uphold our values for every story published.