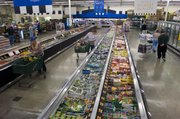 Everybody has to eat.
So maybe that's why even with stocks tanking and foreclosures up, Lawrence grocery stores are staying as cool as the freezer case. Some have expanded, while others are seeing good business thanks to the reality that cooking meals at home is often cheaper than eating out.
"People have the ability in a grocery store to make decisions or make choices with their food," said John Olson, store director of Hy-Vee, 3504 Clinton Parkway. "They can go all the way from expensive types of bread down to less expensive types of breads, and throughout the whole store, there's those kinds of choices you can make. We're seeing that people are making those kinds of choices."
Olson said that consumers are saving themselves in other ways — from buying frozen instead of getting take-out, skipping the salad bar or bypassing the flowers.
"We're seeing that more make-at-home types of products are being purchased," he said. "Frozen food specifically is seeing a little higher (number of) products being purchased than we've seen before. People are still pressed for time. They still are very busy and are needing to have quick foods to fix for their home."
Olson said that one thing that hasn't changed is customers' taste in natural and organic foods. He said that despite the fact that those items are usually more expensive, there hasn't been a decrease in sales. But there hasn't been the sort of rapid growth previously seen, either.
"Our organics have stayed pretty steady," he said. "That tells me that the people who have chosen to make that part of their lifestyle have stayed with it."
Rita York, floor operations manager at The Community Mercantile, 901 Iowa, says that the store has not seen a slowing in sales of its produce, most of which is organic. Where they have seen changes? In the bulk department, where shoppers have begun to see the value in buying bulk.
'Sharpened' focus
Over at Checkers Foods, 2300 La., the economic slowdown hasn't caused store director Mike Smith to even blink.
"Basically, what the economy has done for us is just made us continue to provide the best prices with the best quality," Smith said. "It's kind of sharpened our image a little bit. It's made us stay focused on what's been successful in the past: low prices and good-quality products."
He said that because the store's focus has always been no-frills savings, there hasn't been any adjustment in operations needed in the current economy.
"It really hasn't changed," he said. "Our format keeps us to where ... we try to keep the prices low and the quality high. Our prices are dictated on what the cost is. Actually, some of the prices have started to come down now. Commodity prices, like milk, cheese, stuff like that — we're started to see a downturn in that. "That's what benefited us as well as the consumer, too — we really try to pass those savings on to the consumer."
Smith added that the store's success helps the local economy in that it benefits the local producers whose products Checkers buys.
"We're trying to keep buying local and help the local economy as much as possible — local growers, local producers," Smith said. "There's all kinds of different ways that we can help out a little bit, too."
Helping through expansion
Meanwhile, Dillons is also adding to the local bottom line through expansion and job growth. Two of the Hutchinson-based chain's four area stores — 1015 W. 23rd St. and 4701 W. Sixth St. — have either been recently remodeled or are undergoing expansion.
According to Sheila Lowrie, communications coordinator, those changes — the remodel of the 23rd Street store and the 37,000-square-foot expansion at the Sixth Street location — have added about 160 new jobs.
The new jobs come along with added amenities designed to create an all-encompassing shopping experience, Lowrie said.
"Overall, the expansions and remodels allow Dillons to provide our customers with even more of what they want, by focusing on quality foods at a good value, innovative features, and the best in customer-friendly service ... all with a unique look at one-stop shopping," Lowrie said. "We realize one-stop shopping is more than a convenience, it's a necessity to most shoppers today. Customers want healthy, quality foods at good values but don't always have time to prepare meals."
Copyright 2018 The Lawrence Journal-World. All rights reserved. This material may not be published, broadcast, rewritten or redistributed. We strive to uphold our values for every story published.