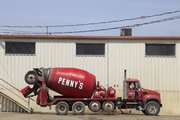 With millions of dollars pouring into road and repair projects throughout the country, state, northeast Kansas and, yes, right here in Lawrence, contractors suddenly are being called upon to lift the country out of its economic pothole.
And they're ready for the job.
Competition is intense for contractors angling for months of work, after an economic downtown had put the brakes on an industry designed to keep people moving.
"It's brutal right now," said Bill Penny, CEO of Penny's Concrete Inc., which has a ready-mix plant in Lawrence and 20 others in eastern Kansas and western Missouri. "It's brutal. And it's intense — intense because there's overcapacity in the market. There's more ability and equipment to do the work than there are jobs."
The federal government is pumping more than $280 million into Kansas for road and highway projects, as approved by the Kansas Department of Transportation. Then there's money for airports, rail projects and other transportation-related work.
Penny's, a company that produces concrete, sand and other construction materials, is among contractors with a relatively solid lineup of work: His trucks are busy hauling concrete to the construction site for a new U.S. Highway 59, south of Lawrence. Beginning this week, Penny's trucks are pouring concrete on bridges for the Kansas Turnpike in Lawrence, a project being handled by Perry-based Hamm Cos. as general contractor.
But those jobs aren't part of the stimulus, which Penny describes as a "drop in the bucket" when compared with work needed to address the nation's infrastructure and job-creation needs.
"I'm not a pessimist, but at the same time, I try to be realistic," Penny said. "I would say that 1981 and 1982 — when interest rates shot up to 21, 21.5 percent, off the charts; inflation was at 12 or 13 percent — that was the second-most challenging time I've seen, up until now."
'Trying to survive'
Penny doesn't plan to hire any additional workers to handle supplies for stimulus projects, should his company be successful in securing bids.
He isn't alone.
R.D. Johnson Excavating Inc., in Lawrence, intends to make a run at some local stimulus projects as they become available. For one, the city of Lawrence received $800,000 in stimulus funds to rebuild recreational paths along Clinton Parkway, west of Wakarusa Drive.
The city also intends to rebuild the intersection of North Second and Locust streets in North Lawrence, using $2 million in stimulus money and, perhaps, another $1 million from another transportation program.
The project is certain to be complicated — the busy intersection is key for traffic moving between downtown and North Lawrence — and its timing, of course, also would be important: Not only would the money need to be spent in conformance with stimulus deadlines, but the Kansas Turnpike Authority plans to close down the turnpike's East Lawrence interchange at the northern edge of North Lawrence for eight months of reconstruction beginning in spring 2010.
The work site, schedule and competition for the job all look to be tight, said Roger Johnson, president and CEO of R.D. Johnson.
"If times were going good, that's probably a job a lot of people wouldn't bid," said Johnson, whose company has 40 employees, down from 50 just a couple of years ago. "Now, being like it is, we have to. We're all trying to survive."
Looking for luck
Lawrence-based LRM Industries Inc., a longtime builder of roads in the area, also is busy examining its options for landing more work, as the ongoing downturn has drained the market of potential projects. Just three or four years ago LRM had upward of 130 employees; now its payroll stands below 100.
"We're bidding stuff every day," said Steve Glass, LRM president. "We just have to get lucky."
Unlike some other areas that secured a larger chunk of stimulus financing — Johnson County, for example, is home to a $91 million highway project — the Lawrence area largely missed out, Glass said. The recreational path and North Lawrence intersection are among a handful of smaller projects connected with the stimulus.
The stimulus isn't exactly jump-starting the construction economy in Lawrence, which used to be driven by a robust housing market and a growing commercial sector.
"You have to look at this on a nationwide basis," Glass said, of the stimulus program. "There's no question that it will impact the construction industry nationally, but it will be spotty — hit and miss.
"For some contractors, it will probably be a really great thing. And for others, it will be like it never happened."
Copyright 2018 The Lawrence Journal-World. All rights reserved. This material may not be published, broadcast, rewritten or redistributed. We strive to uphold our values for every story published.