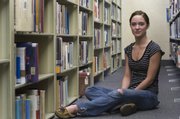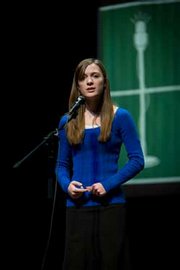 Madeline Roger has spent some time getting into the minds of poets.
"You have to interpret it yourself and say it the way you think the author would want to say it," she says.
Roger, a senior at Baldwin City High School, is pretty good at it, by this point. She just repeated as Kansas state champion in the Poetry Out Loud Competition, sponsored by the Kansas Arts Commission and the National Endowment for the Arts, in cooperation with the Kansas Association of Teachers of English.
She's headed to the national competition April 27 and 28 in Washington, D.C., where she'll face other state winners in a chance to win a $20,000 prize.
"Last year, it was extremely overwhelming," she says. "I was really distracted by other things. They were all just amazing. It was really tough — there were a lot of talented kids."
A primer: Each entrant in Poetry Out Loud must memorize and recite three poems. One must be 25 lines or fewer, one must have been written before the 20th century, and one poem can be the participant's choice.
Her choices were "The Flea," by John Donne; "What My Lips Have Kissed and Where and Why," by Edna St. Vincent Millay; and "Salome" by Ai.
"You have to memorize it word for word, because accuracy is part of the scoring," Roger says.
Roger beat out seven students in the northeast region and six at state — representing the state's six regions — to make it to nationals.
Susan Micka, a learning coach at Lawrence High School, is the regional coordinator for Poetry Out Loud. She says Roger has been a consistent voice in the competition the past two years.
"She has a nice presence," Micka says. "She commands the audience. She has a nice level of inflection and interpretation to the poems. Some of her competitors overdo it or underdo it."
Roger says her favorite poet is Robert Service, known for his writings on northern Canada. Another favorite is closer to home.
"I mostly like my mother's poetry," she says. "She's a hospice nurse, and she writes about her experiences."
She's glad programs such as Poetry Out Loud help to spark interest.
"At my high school in Baldwin, I might be the only one, to be honest," she says of her interest in poetry. "It's a very sports-oriented school. In bigger cities, with more theater, English and literature classes offered, I think kids are more into poetry."
Copyright 2018 The Lawrence Journal-World. All rights reserved. This material may not be published, broadcast, rewritten or redistributed. We strive to uphold our values for every story published.