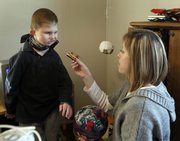 Parkville, Mo. — In his first five years of life, Lance Roth spent his days in a quiet and mostly dark world.
Born totally deaf and nearly blind, with accompanying physical disabilities, the young boy was unable to tell his parents or teachers what he wanted or how he felt.
"At that time, he had no communication at all," said Lance's mother, Danette Roth, of Parkville. "He was not gesturing. He had nothing."
The Roths turned to a research project that advocates say offers evidence that methods of trying to communicate with deaf-blind children may have to change.
A changing field
Experts say techniques for communicating with deaf-blind children will have to evolve as medical advances save more low birthweight babies, who are more prone to vision and other disabilities.
Roughly 10,000 people in the U.S. between birth and 21 or 22 years have different levels of vision or hearing impairments. Of those, about 90 percent have additional disabilities.
The Kansas Deaf-Blind Consortium has records of 111 students in Kansas who are deaf-blind and Missouri's deaf-blind group counts 193 deaf-blind children in the state.
The recently completed five-year study, conducted through the Schiefelbusch Institute for Life Span Studies at Kansas University, adapted the gestures and noises used by typically developing infants to form a communication system for deaf-blind children.
"Kids don't just not communicate until one day they start talking," said Nancy Brady, a speech pathologist and principal investigator in the study. "In reality, they're communicating like crazy with gestures and vocalizations almost from birth."
The study adapted those movements and noises to overcome the obstacles deaf-blind children face when trying to communicate.
Ways to communicate
The researchers had to find a way to make the children want to communicate a need or desire, said Susan Bashinski, another principal investigator who is now an associate special education professor at East Carolina University.
For example, they made a child aware that a toy was nearby, by touch or using vibrating toys. Then, they would teach a gesture to indicate he or she wanted the toy.
"Eventually, they have an 'aha' moment where they understand that they are not just a passive member of the environment, 'I can do this action, then you can do this and interact with me,"' Bashinski said.
Learning such skills is critical for children who often just lie or sit in one place and do nothing, Bashinski said.
"The more severe the loss of hearing or vision, it's like they don't know there's a world out there," she said. "They don't know there are things outside their own bodies with which they can interact and have influence."
Many deaf-blind children barely communicate until they are old enough to start learning sign language. But they often struggle with that because they didn't learn the gestures and noises that are the foundation for communication in normally developing infants, Brady said.
Those gestures and noises have been adapted to help developmentally disabled children who can see and hear, a method called Prelinguistic Milieu Teaching. The study adapted that method for nine Kansas children with varying degrees of deaf-blindness.
Working at the children's schools, researchers sought to increase the number of times the child communicated per minute and the number of gestures. The results will be published this month in the journal Research & Practice for Persons with Severe Disabilities.
The study bolsters research on the importance of prelinguistic communication and emphasizes deaf-blind children need one-on-one work to begin learning communication, said Kat Stremel Thomas, project coordinator for the National Consortium of Deaf-Blindness, which supports states' work to communicate with deaf-blind children.
"All brain research shows that the younger kids are when they get appropriate intervention, the better the outcome will be, especially in literacy and communication," she said.
Copyright 2018 The Associated Press. All rights reserved. This material may not be published, broadcast, rewritten or redistributed. We strive to uphold our values for every story published.