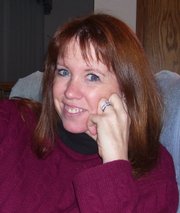 Playing hide-and-seek with love and not discovering what you want? Marianne Stevens believes she has the answer for you.
Stevens, a Lawrence author and filmmaker, is teaching a workshop from 2 p.m. to 5 p.m. today at the Unity Church of Lawrence, 900 Madeline Lane. The "Love in Form Playshop" will teach participants to invite love into their lives by attracting a partner with the spiritual principles of the new thought/ancient wisdom tradition and the "law of attraction" perspective, Stevens says.
Stevens believes that by calling for what you want, you can find the love of your life, like she did. She says when she found her husband, it was like the "universe rearranged." With the right tools and point-of-view, she believes this can happen for anyone.
"You call in anything you want," Stevens says. "Successful people have a high belief in success inside themselves already. And unsuccessful people have that belief in them. So, whatever you're vibrating at, that's what you are going to attract."
Stevens is the author of "Visioning: Creating the Life of Our Dreams & a World that Works for Us All." She studied at the Agape International Spiritual Center, and her teacher there, the Rev. Michael Beckwith, was featured in the movie "The Secret" based on the best-selling book.
For more information, call 580-6889.
Copyright 2018 The Lawrence Journal-World. All rights reserved. This material may not be published, broadcast, rewritten or redistributed. We strive to uphold our values for every story published.