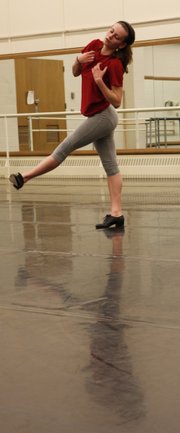 An early work by renowned choreographer Twyla Tharp will hit the stage Thursday and Friday at the University Dance Company at Kansas University.
"The Fugue" was reconstructed for UDC by Shawn Stevens, a member of the New York City Ballet and cast member of Broadway's "Movin' Out," during a residency this semester at KU.
It involves three dancers, without music, moving through 20 variations, each ending with a distinctive gesture.
Other works on the program include:
• "Feet in the Soil," an African-influenced work choreographed by Willie Lenoir, performed by five dancers.
• "An Agreeable Gathering of Ladies in Motion," a reconstruction of dances by English master Kellom Tomlinson, performed by Joan Stone, a KU dance lecturer.
• "Ramifications," a work set to music by Radiohead for 13 dancers that is a "meditation on environmental impact."
• "Moto Armonico," a three-scene ballet by Jerel Hilding, associate professor of dance.
The performance is at 7:30 p.m. Thursday and Friday at the Lied Center. Tickets are $10 for the public and $7 for students and seniors, and they're available by calling 864-2787 or visiting the Student Union Activities, Lied Center or Murphy Hall box offices.
Copyright 2018 The Lawrence Journal-World. All rights reserved. This material may not be published, broadcast, rewritten or redistributed. We strive to uphold our values for every story published.