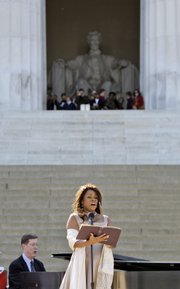 Washington — More than 2,000 people gathered Sunday at the Lincoln Memorial for a concert honoring the 70th anniversary of Marian Anderson's historic performance there in 1939.
Because of the color of her skin, Anderson was denied the opportunity to perform at nearby Constitution Hall and local high school. So, instead, the opera singer sang on the steps of the Lincoln Memorial in April 1939 to a 75,000-person crowd of blacks and whites standing together.
In the Sunday afternoon sunshine, opera star Denyce Graves performed three of the same songs Anderson sang 70 years ago: "America (My Country, 'Tis of Thee)," "O, Mio Fernando" and "Ave Maria."
Wearing one of Anderson's old dresses, Graves called her predecessor "one of my greatest heroes."
"It is the honor of my life and my career to be celebrating this day of freedom with you," she told the audience.
She joked that when she looked over Anderson's performance list and saw "O, Mio Fernando" she thought "my God she sang that song; that's really hard."
Former Secretary of State Colin Powell recited excerpts from President Abraham Lincoln's second inaugural address. Afterward he remarked on Lincoln's famous call to heal the nation's wounds after the Civil War, "with malice toward none, with charity for all," telling the audience they should aspire to those words.
The Chicago Children's Choir, women's a cappella group Sweet Honey in the Rock and the U.S. Marine Band also performed at the concert.
Introducing a number called "Would You Harbor Me," a member of Sweet Honey in the Rock said the song was "written because this country has been a harborer to so many, but at the same time it has rejected so many."
Those words highlight Anderson's own story. She grew up in poverty in South Philadelphia, but became famous in the 1930s, performing for royalty and in major concert halls in Europe, New York and Philadelphia.
When her manager tried to book Anderson at Constitution Hall, the largest venue in segregated Washington at the time, she was rejected by the Daughters of the American Revolution, which owned the hall and prohibited black people from performing there. The district's school board also turned her away from singing at a school's auditorium.
Sunday was a time to reflect "where we were then, where we are now, and how far we have to go," said Raymond Arsenault, who has written a book on Anderson's concert and has consulted with the Abraham Lincoln Bicentennial Commission. The commission and the National Park Service are sponsoring the event.
According to Arsenault, the 1939 event wasn't just a concert. "It was this sort of crack in the mold; it just showed people this alternative vision of what America might be like if it lived up to its goals of liberty."
Copyright 2018 The Associated Press. All rights reserved. This material may not be published, broadcast, rewritten or redistributed. We strive to uphold our values for every story published.