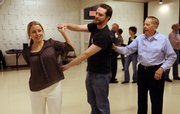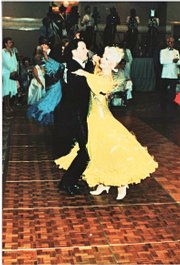 It started with a dress. A dress for Shirley Barrand to dance in with her husband, Warren "Blue" Barrand.
The couple had met on a dance floor at a single's mixer, and one thing led to another, and then, as a young married couple, they took up ballroom dance lessons. But it wasn't until Shirley laid her eyes on an elaborate ballroom gown that the thought of competitive dancing crossed her mind.
Upon entering the dance studio for a class that Shirley and Blue had been taking for over a year, she saw an exquisite, frilled dress and asked about it. She was told that the dress was for a Latin dance in an upcoming competition in Kansas City.
The hook had been set.
After receiving encouragement from the couple's ballroom dance teacher, Shirley and Blue decided to attend the contest to become more familiar with competitive dance — and found their calling. Shirley describes their reaction with a smile.
"We stood there, both of our eyes as big as silver dollars, and we said, 'Wow, this is really something,' and from then on our dancing took a whole different turn," she says.
In fact, for the next 18 years the couple continued to take lessons. They competed on a national level for 15 years.
In 1990, the couple took a brief hiatus from the sport when they "retired." (Blue will say only now that they're "going on 39 again" when asked their ages.)
Only a few years later they were approached by the Lawrence Arts Center to teach. For the next 15 years, Shirley and Blue taught one or two classes together each week. Their teaching expanded through Lawrence Parks & Recreation, and now their students range from beginners to intermediates.
"I love the beginners," Shirley explains.
It isn't hard to break the ice, she says. They jump right in and start teaching students the initial positions. Shirley and Blue dissect each step, breaking down everything from the direction of the pointed toe to the distribution of weight on each leg.
Eight weeks into the class, on a day in February, the couples already have the rhythm. Shirley and Blue introduce a few more complicated steps for the class to learn, to add to their basic skills. As the couple showcase the "sweetheart" step, the students laugh as though they will never be able to complete the quick turns and hand movements. Before long though, each couple has the steps down.
Dan and Cristin Wethington, busy parents of three daughters, even exchange a quick high-five after completing the "sweetheart" step and, without hesitating, jump right back into the cha-cha-cha count.
Shirley exclaims to the class: "You're dancing now, you're really cha-cha-ing!" Then Shirley and Blue separate, and as the music plays, they attend to each couple individually to add what Shirley calls the "finesse" to each step.
Blue works with one couple who has a bit of difficulty with an important quick step, and after they master the step he says with a wink, "Now go practice that one hundred times, and you'll really have it." Laughing, the students get right to work.
The room is filled with counts of "one-to-three, cha-cha-cha" as each of the couples exchange smiles with every turn. A few students even add their own hand sequences and hip movements to make the moves their own.
Before long, the final class is over, and at the request of the students, the Barrands take the center of the floor to show them what years of practice can really mean for a couple. They've been married since 1974 and still love to dance whenever they get a chance — even at home.
"I I built a floor in the basement at home so we'd have a place to practice before competitions," he says.
On this night, for their demonstration, the music playing is a faster version of "Love Potion No. 9," with an additional "oooh aaah" stanza, which seems appropriate, because gauging by the looks on the students' faces as they watch the Barrands move across the floor, that is exactly what everyone is thinking.
Despite the fact that Shirley and Blue are not in their formal costumes — her fancy dress, his tails — their grace is indisputable. What's more, they make the whole thing entertaining, flashing smiles and winks at their audience just before taking multiple quick turns, "New Yorkers," and "sweetheart" steps.
Copyright 2018 The Lawrence Journal-World. All rights reserved. This material may not be published, broadcast, rewritten or redistributed. We strive to uphold our values for every story published.