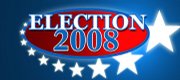 In-depth coverage of the candidates and the issues, all leading up to the Aug. 5 primary and the Nov. 4 general election.
Topeka — Prominent Democrats don't expect Barack Obama to carry Kansas in the presidential race, but they hope he'll do relatively well in this reliably Republican state, winning 40 percent or more of the vote.
Meanwhile, Kansas Republicans expect John McCain to enjoy a typically large Republican margin in the Nov. 4 election, thanks to running mate Sarah Palin.
Some Republicans acknowledge many conservatives weren't excited about McCain, the Arizona senator but believe his putting the Alaska governor on the ticket energized that core constituency.
"They weren't enthusiastic, but they were going to vote for him," said Sen. Sam Brownback. "With Palin, he's picked up their enthusiasm so that the passion level, the giving levels, people going out and working for the ticket, has skyrocketed."
'Significantly better'
Still, Democrats expect Obama, the Illinois senator, to capture a higher percentage of the vote than Democrats normally do in Kansas. That's based on the enthusiasm his candidacy generated in February, when Democrats had presidential caucuses in Kansas, and many of the Democrats' 50 sites were overwhelmed with participants.
"I think it's likely that he'll run significantly better than John Kerry or Al Gore did," said Dan Watkins, a Lawrence attorney who's a senior Kansas adviser to the Obama campaign.
No Democrat has carried Kansas in a presidential election since Lyndon Johnson in 1964. Registered Republicans outnumber registered Democrats by almost 300,000; 45 percent of the state's registered voters are affiliated with the GOP, and unaffiliated voters are a bigger bloc than Democrats.
The last Democratic nominee to crack 40 percent of the vote was Michael Dukakis in 1988. Since Johnson's nationwide landslide in 1964, the average for Democrats has been 36 percent. Gore in 2000 and Kerry in 2004 managed about 37 percent.
Some Democrats believe Obama will fare better because of the economy and voters' dissatisfaction with outgoing President Bush and the war in Iraq.
They also believe that Obama will bring new voters out, particularly young adults who haven't previously shown much interest in politics. In February, party officials expected between 10,000 and 11,000 Kansans to participate in their caucuses; the turnout was about 33,000.
"We had his volunteers mobilized," said Larry Gates, the state Democratic Party's chairman. "They're not people we would have out walking the streets if it weren't for his candidacy."
GOP turmoil
Democrats also saw a potential boost for Obama from turmoil within the Republican Party.
Early on, McCain did pick up support from both the Kansas GOP's moderate and conservative wings. Brownback, a conservative, endorsed McCain after abandoning his own bid for the presidency. Steve Cloud, a Lenexa businessman who's served on the Republican National Committee, was an early moderate McCain backer.
But that support seemed pallid in February, when the Kansas GOP conducted its caucuses. Many Kansas conservatives embraced former Arkansas Gov. Mike Huckabee, and he won 60 percent of the vote, to less than 24 percent for McCain.
State Sen. Tim Huelskamp, a Fowler conservative who endorsed Huckabee, said McCain wasn't "trustworthy" on issues such as taxes, immigration and campaign finance. Then, Huelskamp noted, McCain picked Palin.
"For most of us, this was the biggest political decision of his life, and I think he got this right," Huelskamp said. "She has just energized the party."
It's not just Palin's credentials on social issues that's excited conservatives. They argue she'll attract votes from independent voters and even moderate Democrats enthusiastic about the possibility of electing the nation's first female vice president.
Some activists in both parties believe conservatives always were destined to support McCain, whatever their enthusiasm.
Cloud said the possibility of a moderate Republican or even a non-Republican like Connecticut Sen. Joe Lieberman was "the gorilla under the covers" for conservatives. But, he said, even before the Palin choice, they were becoming pragmatic.
"The question then arose, 'Do I want McCain or do I want Barack Obama?"' Cloud said. "Then all of a sudden, people started to say, 'Well, OK."'
Gates said of Palin: "I do think that she may have brought some conservatives back to the table, but they were always coming. It was just a matter of time. They just had to find their reason to support McCain."
Kansas Republican Party Chairman Kris Kobach believes the most recent poll is a good indication of how McCain will fare in November.
"Palin was the final nail in Obama's Kansas coffin," Kobach said. "He was never going to win Kansas. Now, he doesn't even have a prayer."
Copyright 2018 The Associated Press. All rights reserved. This material may not be published, broadcast, rewritten or redistributed. We strive to uphold our values for every story published.