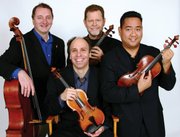 Audio Clips
Branford Marsalis
Past Event
When: Friday, September 26, 2008, 7:30 p.m.
Where: Lied Center, 1600 Stewart Drive, KU campus, Lawrence
Cost: $18 - $35
-->
-->
Frederick Lifsitz cringes when he hears the phrase among his classical music colleagues.
"There's always this expression I hate," he says. "When people get something in the classical world, and they get something together, they look at each other and say, 'Close enough for jazz.'"
That's because, as time goes on, Lifsitz and his fellow members of the Alexander String Quartet are blurring the lines between the classical and jazz genres.
They'll take another step toward that tonight at the Lied Center, when the quartet performs with saxophone icon Branford Marsalis in a concert that is part classical and part jazz.
"It's more of a hybrid concert," Marsalis says. "I've never played the piece before, so I don't really know what to expect."
That piece is "Focus," a suite composed in 1961 by Eddie Sauter for legendary jazz musician Stan Getz. It's written for string quartet and jazz trio, with a featured saxophone soloist who can improvise on the written parts.
"Focus" will make up the third portion of the concert, after the Alexander String Quartet and Marsalis' trio each perform separately.
Laying the groundwork
For Marsalis, part of one of the most famed musical families in America, splitting time between jazz and classical music is a natural.
"It's the same process," he says. "The preparation isn't as difficult (for jazz) as if you were playing, say, a classical concert, because the level of meticulousness classical requires is legendary. And that's the challenge - to take all the (written) ideas you have to own and make them personal."
Marsalis' upbringing in New Orleans - he's the son of pianist Ellis Marsalis and the brother of trumpeter Wynton Marsalis - helped lead to his varied music career (though he wanted to be a history teacher, not a musician, while growing up).
"I was in the best situation being a black kid growing up in a black neighborhood going to white schools," he says. "So I wasn't socially isolated like most children are. ... I didn't reject (music) socially like most of my friends did in their little ghettos. The Catholic school ghetto was like, 'We only listen to white rock and roll.' And the black ghetto was, 'Oh, we only listen to R&B.;'
"So I was like, 'I'll play that role around you clowns, and when I get around some smart people, we'll share the whole thing.'"
Marsalis' career has included stints playing with Sting's band and as leader of Jay Leno's band on "The Tonight Show."
"When I was doing Jay's show, I realized it was difficult for me to have an entertainer's mindset - the mindset of finding something that works and if people like it, you sit there, and that's your thing," Marsalis says. "And my brain - I'm not able to do it. I need to keep developing and keep stretching and not settle for one thing. It made more sense for me to go on and fulfill what is clearly my destiny and not worry so much about how it's perceived by others."
'Huge fans'
That leads him to concerts like the one tonight - one he hopes attracts serious music fans who appreciate both classical and jazz.
His relationship with the Alexander String Quartet started about eight years ago, when Marsalis was a visiting faculty member at San Francisco State University, where the quartet is based.
The quartet, which has been around 27 years, keeps an active touring schedule throughout the U.S. and especially in California.
Lifsitz says "Focus," the piece featured tonight, was discovered a few years ago by a Yale University librarian.
"It sort of has lain fallow," Lifsitz says. "It just hasn't been played."
And though the quartet has performed the piece with a handful of other saxophonists, this will be its first time with Marsalis. In fact, the quartet's first rehearsal with Marsalis and his trio was this week in Lawrence.
But, even though he's been trained to be a well rehearsed classical musician, Lifsitz knows in the vain of good improvisatory jazz, everything will come together for tonight's show. He says he and his fellow quartet members can take a page from Marsalis' book on that one.
"We've been huge fans of his for years," Lifsitz says. "I think Branford is pretty much the man. We're looking forward to it."
Copyright 2018 The Lawrence Journal-World. All rights reserved. This material may not be published, broadcast, rewritten or redistributed. We strive to uphold our values for every story published.