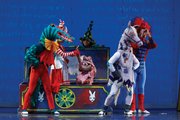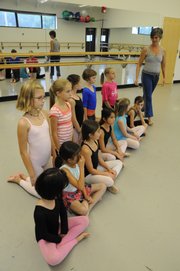 Ashley Ammann, 10, has danced for more than two years.
She's used to being on stage, but the story of a rabbit that comes to life has her just a little nervous.
"I think it'll be kind of scary," Ashley says. "It's a bigger stage than the arts center, and there will be a lot of people."
She is one of 11 young Lawrence dancers who will be a part of the ODC/Dance's production of "The Velveteen Rabbit" Sunday at the Lied Center.
Anthea Scouffas, director of education and outreach at the Lied Center, says ODC/Dance (which started as the Oberlin Dance Collective) has performed the children's story for around 15 years and almost always involves local children in its productions.
"It is a universal story," she says. "How many kids have stuffed animals in their room? Everybody."
"The Velveteen Rabbit," written in 1922 by Margery Wiliams, tells the story of a young boy who receives a stuffed rabbit for Christmas. The rabbit waits for its day to be a beloved playmate of the boy. Eventually, the boy falls ill with scarlet fever, and the rabbit is ordered burned with other toys to disinfect the nursery.
The story, which does have a happy ending, is told through music, narration and dance - a mix of ballet and modern - in the ODC/Dance production.
The local participation has been organized by Lawrence Arts Center's dance program. Twenty-eight young dancers auditioned last month for 11 spots in the production.
Those who made the cut will rehearse about 10 times before the show.
"I wanted to do 'The Velveteen Rabbit' because it's the biggest show I've ever done," says Annie Olson, 9. "I'd be doing a really hard thing I've never done before."
Ashley says she wasn't familiar with the story until she tried out for the part.
"I thought it was really cool," she says. "It's very sad when the boy gets sick and the rabbit has to be taken away."
Grace Eason, 10, says she thinks dance is a good way to tell the story.
"I really like that I'm able to express myself without words," she says. "It's challenging, but you also learn to be able to do it."
Deborah Bettinger, ballet instructor at the arts center, says this is a rare opportunity for young dancers to perform on stage with professionals.
"It's really a smart thing to do," she says. "It involves the community and fills seats."
She says the level of dancing seems appropriate for the youngsters.
"It's stylized but simple enough the children can do it," she says. "They had to be rehearsed. It's children doing it, so that's the cute factor, but it's also the unknown."
Grace says the rehearsals have been a lot of work. But she knows it'll be worth it on Sunday when she's on that big stage.
"That," she says, "is going to be really cool."
- Features/special sections editor Terry Rombeck can be reached at 832-7145.
Copyright 2018 The Lawrence Journal-World. All rights reserved. This material may not be published, broadcast, rewritten or redistributed. We strive to uphold our values for every story published.