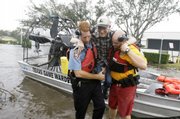 Orange, Texas — Even as they plucked people from rooftops and wrecked neighborhoods on Saturday, emergency responders grumbled over how many brushed off dire warnings and tried to ride out Hurricane Ike.
"When you stay behind in the face of a warning, not only do you jeopardize yourself, you put the first responders at risk as well," Homeland Security Secretary Michael Chertoff said. "Now we're going to see this play out."
While more than 2 million people evacuated ahead of Ike, tens of thousands more ignored evacuation orders and swamped rescue crews Saturday with emergency calls from the flooded lowlands of East Texas and western Louisiana.
"Of course it's frustrating. There was a mandatory evacuation, and people didn't leave," said Steve LeBlanc, Galveston's city manager. "They had enough time to get out. It's just unfortunate that they decided to stay."
Federal, state and local crews ventured out in boats, high-wheeled trucks - even dump trucks to save them. Dozens of helicopters soon joined the effort, along with Coast Guard jets.
Since Ike made landfall, there have been 940 rescues in Texas of those stranded, said Gov. Rick Perry's spokeswoman Allison Castle.
"Where we see people, we're picking them up," said Jack Colley, director of the Texas division of emergency management.
Louisiana Gov. Bobby Jindal said nearly 600 people were plucked from Ike's floodwaters since Friday.
"This was a storm that caused flooding from one end of the state to the other, literally the whole coast," Jindal told a news conference Saturday night.
In Cameron Parish, Louisiana, National Guard members in a truck picked up 82-year-old A.B. Monroe and drove him to his 83-year-old ex-wife's house across town, at the request of their daughter.
"Now I can keep my eye on both of them," said daughter Sheila Monroe Graham.
Texas officials also lamented that they couldn't do more to force people out ahead of the storm.
"This is a democracy," said Mark Miner, a spokesman for Perry. "Local officials who can order evacuations put out very strong messages. Gov. Perry put out a very strong warning. But you can't force people to leave their homes. They made a decision to ride out the storm. Our prayers are with them."
There were few reports of fatalities, though authorities stressed that high winds and flooded roads had kept them from reaching some of the hardest-hit areas.
In Harris County, which includes Houston, the Coast Guard rescued 103 before the storm and 33 people Saturday for 136 total, according to Coast Guard Lt. Robert Schoen.
In Orange County, 600 to 700 people had been rescued by nightfall, said officials who feared hundreds more were still stranded. There was widespread flooding in Orange and Bridge City, where rescuers were pulling people from attics and rooftops, and in Lake Charles, across the Louisiana line.
Copyright 2018 The Associated Press. All rights reserved. This material may not be published, broadcast, rewritten or redistributed. We strive to uphold our values for every story published.