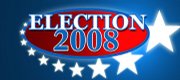 In-depth coverage of the candidates and the issues, all leading up to the Aug. 5 primary and the Nov. 4 general election.
Washington — Rep. Ron Paul, the Texas libertarian who developed a big following in his failed bid for the GOP presidential nomination, has rejected entreaties to endorse his party's nominee and instead is urging his supporters to vote for one of several third-party candidates in the field.
At a news conference Wednesday with three third-party candidates, Paul said he had been urged by former Sen. Phil Gramm to back Sen. John McCain. "Absolutely no," Paul said he told Gramm.
"It might diminish my credibility," said Paul, who was a distant also-ran in the GOP primaries and caucuses but inspired intense enthusiasm among his supporters and amassed a campaign war chest of almost $35 million, raised mostly via the Internet. "I don't like the idea of getting 2 or 3 million people angry at me."
It was a setback for McCain as he has tried to unify the GOP with the selection of Alaska Gov. Sarah Palin, a darling of his party's conservative wing. But some analysts say there is little opening for any of the third-party candidates Paul urged voters to consider - independent candidate Ralph Nader, Green Party nominee Cynthia McKinney and Constitution Party candidate Chuck Baldwin, who appeared with Paul. Former Rep. Bob Barr, nominee of the Libertarian Party, skipped the event and held his own news conference later.
Third-party candidates tend to do best when there is significant dissatisfaction with the major party nominees - as was the case in 1992, when H. Ross Perot drew enough GOP votes to undercut George H.W. Bush, and in 2000, when Nader drew crucial votes from the Democratic candidate, Al Gore.
"This doesn't strike me as a year where people in either party are dissatisfied with their candidate," said G. Calvin Mackenzie, a political science professor at Colby College.
But because analysts expect the presidential election to be extremely close, there is potential for one of the outsiders to be a spoiler. The latest Los Angeles Times/Bloomberg poll found McCain and his Democratic opponent, Sen. Barack Obama, about even, while Nader was backed by 4 percent of registered voters and Barr by 1 percent.
Nader will be on the ballot in 44 states - more than in either his 2000 or 2004 presidential campaigns. Barr has secured ballot slots in 42 states.
Although liberal Nader, conservative Barr and libertarian Paul are strange ideological bedfellows, they share intense dissatisfaction with the two-party establishment. Paul argued Wednesday that McCain and Obama offer voters a choice only between "the lesser of two evils."
He did not specifically endorse any of the four third-party candidates, instead urging voters to choose among them to send a strong message of frustration with the two major parties.
"It is a charade," he said.
Gramm, a fellow Texan, had urged Paul to back McCain because he would do "a little less harm," according to Paul. "A huge vote for those running on principle will be a lot more valuable," Paul said Wednesday.
Copyright 2018 The Lawrence Journal-World. All rights reserved. This material may not be published, broadcast, rewritten or redistributed. We strive to uphold our values for every story published.