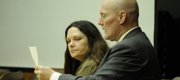 Ramona Morgan was found guilty of killing two men and injuring a third when she drove her truck through a construction zone on U.S. Highway 59 south of Lawrence on Sept. 11, 2007.
Related document

Ramona Morgan court documents ( .PDF )
A civil lawsuit has been filed against Ramona Morgan, the woman found guilty Tuesday afternoon of killing two men and injuring a third when she drove her truck through a construction zone south of Lawrence.
Amanda Hopper, a 22-year-old Dustrol Inc. construction worker who hit Morgan's truck with a stop sign during the Sept. 11, 2007, incident, is suing Morgan in Douglas County District Court for damages in excess of $75,000.
Hopper, of El Dorado, was flagging traffic at the north end of the construction zone when the truck drove by and struck her, according to the Kansas Highway Patrol. She was taken to Lawrence Memorial Hospital where she was treated for her injuries.
During the criminal proceedings for Morgan, who was found guilty of two counts of reckless second-degree murder and one count of aggravated battery, Hopper testified that she struck Morgan's truck with her stop sign because Morgan was disobeying her orders in the construction zone near North 900 Road and U.S. 59.
Hopper "tried desperately to flag (Morgan) down," according to the civil suit which was filed Thursday, and Morgan "knowingly, willfully and intentionally drove her vehicle : in such a manner that (Hopper) was knocked into a ditch and suffered injuries."
Morgan hasn't faced criminal charges in connection with Hopper's injuries, but was found guilty of injuring another Dustrol worker, Curtis Delzell. Morgan was also found guilty of killing Tyrone Korte, 30, of Seneca, an inspector for the Kansas Department of Transportation, and Rolland Griffith, 24, a construction worker for El Dorado-based Dustrol.
The civil lawsuit has been assigned to Judge Robert Fairchild, court records indicate, but a court date has not been set.
Copyright 2018 The Lawrence Journal-World. All rights reserved. This material may not be published, broadcast, rewritten or redistributed. We strive to uphold our values for every story published.