Photo Gallery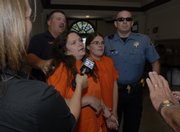 Double fatality on U.S. Highway 59
Two construction workers were killed in an accident Tuesday morning, south of Lawrence
U.S. Highway 59 Double Fatality
LYNDON — The driver of a pickup truck being pursued by a Kansas Highway Patrol trooper following the deaths of two highway workers on Tuesday forced one car to the shoulder and tried to avoid a spike strip placed by officers.
Osage County Attorney Brandon Jones pointed to these factors Wednesday in Osage County court while asking that Ramona I. Morgan, 48, the accused driver, be held on $2 million bond. Magistrate Jon Stephen Jones granted that request. He also set a $1 million bond for Morgan's daughter, Sabrina J. Morgan, 26, who was charged with aiding a felon. Authorities allege that she was a passenger in the truck and did nothing to get her mother to stop during the chase. Both are being held in the Osage County Jail.
Ramona Morgan was charged with fleeing or attempting to elude a police officer, which is a felony, and misdemeanor traffic charges that include reckless driving, speeding, not using a turn signal, and failure to maintain a single lane. If convicted of the felony, she could be sentenced to a maximum of 17 months in prison and ordered to pay a fine of up to $100,000. Convictions on the traffic charges could mean various jail sentences.
Charges in Douglas County are pending as an investigation continues into the hit-and-run deaths of Tyrone T. Korte, 30, of Seneca, a Kansas Department of Transportation employee, and Rolland "Ron" Griffith, 24, of El Dorado, a worker with Dustrol Inc., a highway construction contractor in Towanda. They were killed when they were hit by a truck that was driven through a work zone on U.S. Highway 59 at Pleasant Grove, 4 miles south of Lawrence. Both workers were wearing orange vests.
A second Dustrol worker, Amanda Hopper, 21, also of El Dorado, was injured. She was flagging traffic at the north end of the construction zone when the truck drove by and struck her, according to the Highway Patrol. She was taken to Lawrence Memorial Hospital where she was treated and released.
Douglas County District Attorney Charles Branson wouldn't speculate on possible charges or on how long the investigation by the Highway Patrol and the Douglas County Sheriff's Office might take.
"As soon as the investigation is done, we'll be able to review the matter for charges," he said.
First appearance
The Morgans, dressed in orange jail suits and handcuffed together, proclaimed their innocence as they were led to and from the courthouse.
"I did not run anyone over; those were metal barricades," Ramona Morgan said.
Ramona Morgan said she didn't stop because she was being chased. "I thought they were shooting at me and stuff," she said.
Meanwhile her daughter said, "I'm sorry and it was an accident, if it happened."
Ramona Morgan claimed they were being framed. "We're not guilty and we didn't do nothing," she said.
The Morgans' last known address was in Chewelah, Wash. They said they sold their home and were attempting to buy property in Missouri.
"We're just farmers and we were just going to find a farm to live," Sabrina Morgan said.
The Morgans said they didn't have the money to post bond.
Brandon Jones pushed for a high bond because he considered the Morgans a flight risk because they had no known ties to Kansas or adjacent states. It was unclear whether the Morgans even knew where they were, he said.
"We feel that they are a danger to the community," he said.
The hit-and-run
Brandon Jones said Ramona Morgan was driving when the truck finally came to a stop on U.S. Highway 56 south of Scranton after two of its tires were flattened by the spike strip. He said investigators were still determining who the driver was in Douglas County.
During the pursuit, Sabrina Morgan called 911, he said.
"She was told multiple times to have the driver stop. She did not do it," he said.
"They took two people's lives and then they refused to stop for the police here in Osage County so they're facing serious charges here in Osage County, but I don't think that's anything compared to what they'll be facing in Douglas County," Brandon Jones said after the court hearing.
Past crimes
While the Morgans have no ties to Kansas, they have a lengthy list of legal run-ins in the state of Washington, particularly in Whatcom County. Whatcom is in the state's northwest region, north of Seattle.
Sabrina Morgan in 2002 pleaded guilty to misdemeanor assault and malicious mischief after an incident in which she took a mailbox and attacked passing cars, according to the Whatcom County Superior Court clerk's office. The probable cause affidavit in that case also said that Sabrina Morgan was throwing furniture out the window and fought a police officer who responded to the incident.
Ramona Morgan has her own assault conviction, stemming from a 2004 case. Though little detail was available in that case, the court clerk's office said she served one day in jail and was sentenced to 12 months of probation after pleading guilty to a lesser charge. She also has convictions for reckless driving, which the Whatcom County prosecutor's office described as driving very badly.
In addition to the convictions, both Morgans are named in a number of additional cases. Both were involved in another case that was dismissed without prejudice and no action was taken. The court clerk could not provide details in that case.
'Kept to themselves'
The Morgans recently sold their mobile home in Chewelah and were preparing to move. A neighbor, when reached by phone, said the home had been for sale for several months and had recently sold.
"They lived there about a year," said Charles Martin, who is retired and owns the property next to where the Morgans lived. "They lived in a mobile home and it looked like they were raising cattle."
Martin said he never really had any dealings with the Morgans but saw them drive a pickup truck past his house.
"They really kept to themselves," Martin said.
The Morgans' truck had a South Dakota license plate, according to a Highway Patrol accident report. A spokeswoman for the South Dakota Highway Patrol said that based on the license number, the Morgans had recently purchased the vehicle.
The Morgans told Magistrate Jones that they intend to hire their own attorneys. Jones ordered them to return to court at 9 a.m. Sept. 20 with their attorneys.
Copyright 2018 The Lawrence Journal-World. All rights reserved. This material may not be published, broadcast, rewritten or redistributed. We strive to uphold our values for every story published.