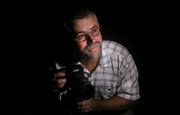 Q: How long have you been a nature photographer?
A: I've been doing nature photography on a more serious level since 2000. I had been shooting slides a little bit; I had a film camera. Canon introduced their first digital SLR camera. I thought that it might be an easier way to learn exposures correctly because I was kind of struggling, because you've really got to nail your exposures on slides. I got hooked on it quite quickly and never really looked back.
I've always enjoyed being out in nature, and it seemed like a perfect fit. But it's different with a camera while you're really looking at everything there is. My wife and I would often do weekend drives out in the country, and it seemed like a good way to bring the camera along and shoot what I was seeing. When starting out I thought about what I wasn't seeing a lot of in Kansas (in regards to photography). I was interested in bird photography, so I got a long lens to do that - 500mm with a couple teleconverters. I signed up for a Kansas bird listserv. So if time allowed and I was interested I would go out and photograph it if I could. That got me started and hooked.
Q: You have a lot of night photography on your Web site. Can you explain how you make some of those images?
A: I started with using long exposures on digital SLR cameras, but because certain pixels would flare as a defect I started using a program to sandwich images to essentially make long exposures. The program is called Image Stacker. The beauty of it is people with point and shoots that don't have the long exposure capabilities, they can make these images as long as they have a tripod.
Q: You've made some interesting northern lights images here in Kansas. Talk about those.
A: Northern lights in Kansas are rare, if they happen at all, so I was wanting to do something unique with it. So I head out on an over four-hour drive to Monument Rocks. I'm at this mad dash driving way too fast in the middle of the night, and about that time it really starts to go. I think to myself that I should stop and take some pictures while it's happening, but I'm not at Monument Rocks yet. I stopped and made some pictures, but it was just a photo of the northern lights off in the north sky. Something that I've learned about night photography is that you really need something interesting in the foreground. So as I was making the long exposures at Monument Rocks, I lit the foreground and rock face with a flash that mounts onto the camera's hot shoe. That was something that had real good results.
Q: Do you have a formula for shooting lightning?
A: With digital, since you're not wasting film, if it's totally dark out you can basically keep the shutter open until you get something. Basically I pay attention to f-stops. If the lightning is really close, I might be shooting at f/16 if I'm really close to the action. If I'm way too close to it in the first place, I'm shooting f/16. If I'm going out I'm going to get a nice sharp shot of it.
Q: Is timing the lightning intuitive?
A: It can be hard, especially during the day. I've probably captured five or six fairly decent lightning bolts during the day. If it gets towards dusk and I can have a six-second exposure, I'll have better odds. Just this last year I experimented with my remote cable release with an interval timer, and I set it to take a picture every five seconds. Then you can take those images and make a little Quicktime movie out of them. And it will show the storm as it progresses.
Q: It looks like you take the long exposure approach to other facets, like the rodeo on your Web site.
A: They let me get out in the arena for bronc riding. The settings were frozen to something I didn't set it to - 1/125 second and f/5.6, a lifetime shutter speed for action shot in rodeos, but I had a flash on the camera, so I went with it. I managed to get this jumping horse in the frame somehow, and it looks more like a painting. It's just one of those things where everything came together. So it's nice to drag the shutter a little bit and using a light source on your camera to freeze your subject.
Q: How do you approach nature photography differently in the day than you would at night?
A: Oftentimes some of your better landscape shots are before the sun comes up, so you've got to get out early for that. And generally just looking for the quality of light and typically that first couple (hours) in the morning and last couple hours in the evening are going to have a softer, more directional light. Generally in shooting wildlife you keep the light behind you, illuminating the front of your subject. It just looks so much better than the contrasty light during the day. ... They say if you do nature photography you should take naps because you're going to be up early and out late.
Copyright 2018 The Lawrence Journal-World. All rights reserved. This material may not be published, broadcast, rewritten or redistributed. We strive to uphold our values for every story published.