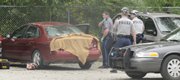 Lawrence police said a Missouri man about 30 years old was found dead of a self-inflicted gunshot wound Saturday in eastern Lawrence.
Shortly before 10 a.m., police were dispatched to 1 Riverfront Plaza to a parking area between the mall and the Burlington Northern Santa Fe Railway Depot.
Earlier, a fisherman and young boy had spotted a man inside a red four-door Ford Taurus, Police Sgt. Dave Hubbel said. Upon closer inspection, the fisherman noticed that the man was not breathing and called authorities, Hubbel said.
Douglas County Sheriff's Deputies were the first on the scene because they were coming from the shortest distance, Hubbel said. Authorities discovered the vehicle was locked, he aid. A deputy first attempted to break the passenger-side rear door with an expandable baton and then used an entrenching tool to get access to the vehicle, Hubbel said.
The man suffered a self-inflicted gunsot wound to the head, Hubbel said.
Several people in the area reported hearing lound bangs coming from the scene.
One man, Lawrence resident Donavan Kinser, said he heard three bangs that could have been gunshots or the sound of smashing car windows.
Hubbel said police on the scene did not use any weapons beyond the tools used to break the window.
Copyright 2018 The Lawrence Journal-World. All rights reserved. This material may not be published, broadcast, rewritten or redistributed. We strive to uphold our values for every story published.