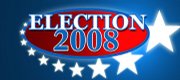 In-depth coverage of the candidates and the issues, all leading up to the Aug. 5 primary and the Nov. 4 general election.
Anchorage, Alaska — John McCain's running mate, Alaska Gov. Sarah Palin, has asked the state's personnel board to review allegations that she improperly ordered the firing of the former public safety commissioner.
The move, which her office announced Tuesday, aims to blunt a probe already ordered by the state legislature. Palin is accused of firing Walt Monegan for failing to dismiss a trooper who went through a messy divorce with Palin's sister before she was governor.
In 2005, before Palin ran for office, the Palin family accused Trooper Mike Wooten of drinking beer in his patrol car, illegally shooting a moose and firing a Taser at his 11-year-old stepson. Palin and her husband, Todd, also claimed Wooten threatened to kill Sarah Palin's father. Wooten, who hasn't returned numerous phone calls left by The Associated Press this week, was suspended over the allegations for five days in 2006 but still has his job.
In July, the legislature launched a $100,000 investigation into whether Palin abused her power in firing Monegan. The Alaska attorney general's office hired Anchorage attorney Thomas Van Flein to represent Palin and members of her staff in this investigation.
The new filing was accompanied by a 13-page accounting of Palin's version of the events, denying any abuse of power. Palin's attorney has long contended that the investigation belonged in the personnel system and not the legislature.
"We fully welcome a fair inquiry into these allegations, and believe that the Personnel Board is statutorily mandated to oversee these proceedings," Stephen Branchflower, the legislature's attorney, said in a letter Monday.
Van Flein is representing Palin both personally and in her official capacity as governor.
Copyright 2018 The Associated Press. All rights reserved. This material may not be published, broadcast, rewritten or redistributed. We strive to uphold our values for every story published.