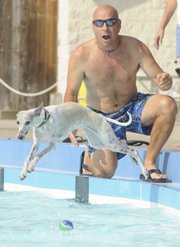 On the street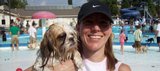 He goes on all the car rides, we do the dog park, our daily walk and he loves to visit the school whenever he can. He also likes to visit the senior center about once a month.
If it weren't for all the dogs paddling in the pool, Tuesday could have been mistaken for any other day at the Lawrence Outdoor Aquatic Center. Instead of the shouts of children, yips and barks filled the air. And towels, of course, were not the preferred way of drying off.
It was a day for the dogs at the pool, 727 Ky., where hundreds of dog owners brought their pets to the sixth annual Pooch Plunge.
Dogs of all sizes chased tennis balls and each other, as they splashed in the water during the pool's final event of the season.
Their unbridled enthusiasm drew even nonowners.
"We love dogs," said Lawrence resident Jennifer Day, who brought her daughter, Emma. "We don't have one; we just love to watch the dogs.
"It's such an unusual opportunity for them."
Jai Hoyer, aquatic programmer for the Outdoor Aquatic Center, said she expected the event to raise about $1,500, which helps offset maintenance costs for the pool.
"It's just an experience you can't get anywhere else, where you see so many dogs together," she said. About 400 dog owners attended last year's Pooch Plunge.
Lawrence resident Joan Meyer brought her Australian shepherd, Jester, and sheltie, Dustin. It was Jester's first opportunity to swim at the pool. He learned to swim at local ponds this summer.
"I just think it's a great thing for the dogs to come out and release some of their energy," she said, as Dustin zipped up and down the edge of the pool, barking at other dogs as they swam.
Lifeguard Vinny Gonzalez, 17, McLouth, said he and other lifeguards were on hand to make sure dog owners didn't indulge the urge to swim with their dogs. The lifeguard corps wasn't prepared to rescue dogs, he said.
"I haven't quite had that course," Gonzalez said. And he wasn't looking forward to diving in the water, now tainted with doggy drool and floating fur.
"I really don't want to get in the water because it's pretty filthy by now," he said.
Copyright 2018 The Lawrence Journal-World. All rights reserved. This material may not be published, broadcast, rewritten or redistributed. We strive to uphold our values for every story published.