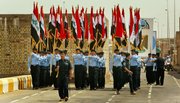 Baghdad — American forces on Monday handed over security responsibility to the Iraqis in a province that the U.S. once feared was lost - a sign of the stunning reversal of fortunes since local Sunnis turned against al-Qaida in Iraq.
But a Sunni Arab leader criticized the Shiite-led government of Prime Minister Nouri al-Maliki for failing to embrace its newfound allies, underlining the threat that sectarian tensions still pose to a lasting peace.
Nevertheless, the transfer of Anbar province, the cradle of the Sunni insurgency and the birthplace of al-Qaida in Iraq, marked a milestone in America's plan to hand over all 18 provinces to Iraqi control so U.S. troops can leave.
The 25,000 American troops remaining in Anbar will focus on training Iraq's military and police forces and standing by to help if the Iraqis are unable to cope with any surge in violence.
The ceremony was conducted under tight security in the center of Ramadi, the provincial capital where American troops fought with al-Qaida and other Sunni insurgents until the tide turned in 2007.
"This war is not quite over, but it's being won and primarily by the people of Anbar," Marine Maj. Gen. John Kelly, the senior U.S. commander in Anbar, said during the ceremony.
President Bush hailed the handover as a major achievement.
Anbar became the 11th province to revert to Iraqi security control, but it is the most significant because it borders Baghdad.
The others have been in the peaceful Kurdish north or in the heavily Shiite south, which has proven less difficult for the Shiite-led government to control.
Anbar, a predominantly Sunni Arab expanse stretching from the western edge of the capital to the borders of Syria, Jordan and Saudi Arabia, was frequently the center stage of the war and a springboard for attacks inside Baghdad.
Late Monday, a Sunni awakening leader in a nearby province, Imad al-Mashhdani, was wounded when a suicide bomber blew himself up near the sheik's home
30 miles north of Baghdad, police said. U.S. officials said one person was killed and six others were wounded along with the sheik.
Copyright 2018 The Associated Press. All rights reserved. This material may not be published, broadcast, rewritten or redistributed. We strive to uphold our values for every story published.