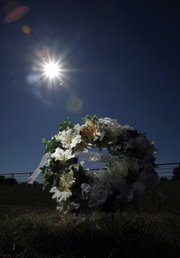 Paris, Texas — In a gruesome case with powerful echoes of the dragging death of James Byrd a decade ago, a black man was killed underneath a pickup truck in East Texas and two white men have been charged with murder.
Black activists and the victim's mother are calling last month's killing of 24-year-old Brandon McClelland a racist attack. But prosecutors cast strong doubt on that Friday.
McClelland died after going with two white friends on a late-night beer run across the state line to Oklahoma, investigators said. Authorities said he was run over and dragged as far as 70 feet beneath the truck. His torn-apart body was discovered along a bloodstained rural road on Sept. 16. His mother said pieces of his skull could still be found three days later.
The case has raised racial tensions in Paris, a town of 26,000 with a history of fraught relations between blacks and whites.
To some, it sounded like the Byrd case, in which a black man in the East Texas town of Jasper, about 200 miles south of Paris, was chained by the ankles to the back of a pickup by three white supremacists and dragged for three miles. Two of the killers are now on death row; the third is serving a life sentence.
Prosecutors in the McClelland case said they are looking into whether one of the defendants, Shannon Keith Finley, was in a white supremacist gang while in prison for killing a friend.
But they said they have seen no evidence so far that McClelland's slaying was racially motivated. And they noted the three men had been friends for years.
"This is a group of guys who had black friends and white friends," said Allan Hubbard, a spokesman for the Lamar County district attorney's office. He added: "Any comparison to Jasper and James Byrd is preposterous."
Autopsy results are expected back next week. While investigators don't believe McClelland was tied to the truck, they planned to look closely for marks on the body that would indicate precisely how he was dragged.
Community activist Brenda Cherry said authorities have not seriously considered the possibility this was a hate crime. "There's a problem in Paris, Texas," she said. "I don't see a difference in getting dragged behind a truck and getting dragged under a truck."
A flier advertising a Saturday memorial service for McClelland said he was "the victim of a brutal and racist hate crime." The New Black Panthers met with investigators and held a news conference at the courthouse promising to examine the killing.
"I truly feel that race played a part in it," said the victim's mother, Jacquline McClelland. "It is a racist town, and Paris has always been a racist town."
Copyright 2017 The Associated Press. All rights reserved. This material may not be published, broadcast, rewritten or redistributed. We strive to uphold our values for every story published.