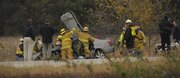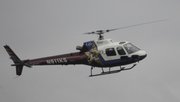 A 21-year-old Kansas University junior died in a two-car accident Thursday afternoon on Kansas Highway 10.
According to the Kansas Highway Patrol, about 1:40 p.m., James Harrison Keeton Jr. was driving a 2008 Ford Focus east on K-10, one mile west of Lawrence at milepost 3.5, and attempted to pass a black limousine on the two-lane highway. Keeton struck a 2003 Toyota Corolla, which was traveling west. Maria B. Thorson, 25, a KU doctoral student from Wisconsin, was test driving the Corolla. Her passenger, John Revenew, 56, was a salesman from Crown Automotive, according to Edna Buttler, KHP technical trooper.
Keeton died at the scene. Buttler said he was not wearing his seatbelt at the time of the accident.
Thorson was taken to Kansas University Hospital in Kansas City, Kan., by air ambulance. Her condition was not available Thursday evening. According to a Lawrence Memorial Hospital spokesman, Revenew was stabilized there and transferred to a trauma center. The spokesman did not have details on the trauma center.
Buttler said Thorson and Revenew were wearing their seatbelts.
Todd Cohen, Kansas University spokesman, said Keeton was a history and biology student from Wichita. Cohen said Thorson is in a prestigious graduate fellowship called the Self Fellowship. Cohen said KU's Counseling and Psychological Services will be offering services to those who need it.
A section of K-10 between Kasold and Wakarusa drives was closed at least two hours. Buttler said the accident is under investigation.
Copyright 2018 The Lawrence Journal-World. All rights reserved. This material may not be published, broadcast, rewritten or redistributed. We strive to uphold our values for every story published.