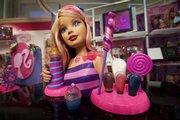 Washington — Toys cost more to make this year. Parents are feeling poorer than they did last holiday season. Can Santa work his magic?
Toymakers and retailers hope so.
Mattel and Hasbro, two of the largest toy manufacturers, have raised their prices this year because of higher costs of labor and materials. On Monday, Mattel warned that more increases are likely for next year. That has put pressure on retailers, which have already begun slashing prices on products ranging from doll strollers to Hot Wheels to drum up traffic in their stores. One industry report estimated that toy sales have been essentially flat over the past year.
"Christmas comes every year, but people don't have to spend the same amounts that they spent last year," said Gerrick Johnson, an analyst with BMO Capital Markets. "It's tough out there."
Reining in spending
Shoppers are expected to make their lists and check them for price. According to data from the National Retail Federation, a trade group, shoppers are expected to spend an average of $466.13 this year on gifts for their family - $3 less than last year.
Parents may opt for one big gift for the entire family rather than several smaller presents, the group said. But Jonathan Samet, publisher of Toy Insider and several other trade magazines, said he thinks parents will be spreading their budgets across several less expensive gifts. For the first time, he picked several products that cost less than $10 for his annual list of hot toys.
Those budget gifts include Bakugan Battle Brawlers, an action-figure card game, and stuffed animals from the popular online site Club Penguin.
"There are many consumers that are going to be more value-conscious," said Anita Frazier, an analyst with market research firm NPD Group. "I think they're going to be scrutinizing their decisions more, and there could be less impulse-purchase behavior."
Toy sales flat
Apparently, toy-buying already has begun to change. Frazier said the toy industry's sales in the 12 months that ended in August were flat at $22.2 billion compared with the previous year. But the average price of a toy rose nearly 6 percent, to $7.74, as manufacturers passed on their increased production costs and more expensive electronic toys grow in popularity.
Among those electronics are Hasbro's FurReal Friends animatronic pets, which respond to touch and sound. For example, Biscuit, a golden dog, obeys simple commands and whimpers when it's hungry - and retails for a suggested $179.99. The latest installment in Mattel's popular Elmo series, Elmo Live, waves its arms and crosses its legs as it plays recorded jokes and stories. It sells for about $59.99, about $20 more than last year's version.
'There will be a Christmas'
Mattel on Monday said it was likely to raise its prices next year after increasing them by mid- to high single digits this year. Hasbro raised its prices in September as labor costs in China rose about 30 percent, executives said Monday in a conference call with analysts.
"Every year at this time some event arises that gives folks in the toy industry what I like to call the early fail jitters," Mattel chief executive Bob Eckert said. "My bet is there will be a Christmas."
But retailers don't seem to be taking any chances as they brace for a bruising battle for shoppers' wallets.
Wal-Mart threw the first punch early this month when it announced that it was selling 10 popular toys for $10, including a butterfly Barbie, the Clue board game and the FurReal newborn animals. It also cut prices on 10 of the dozen toys on its annual hot list by as much as $10 a week ago.
Toys R Us spokesman Bob Friedland said the retailer will keep some toy prices steady but will have to raise others, though he said any increases will be minimal.
FAO Schwarz chief executive Ed Schmults said traffic in his stores, which are inside Macy's stores, has been up for the past several months though the average amount of each purchase has gone down. He said he has also seen strong sales of toys that cost less than $40.
Retailers expressed hope that the toy industry will prove to be, if not recession-proof, at least recession-resistant. Roughly half of all toy sales occur during the holiday season, and retailers were cautiously optimistic that parents would still be putting packages underneath the tree.
"People are going to be cautious about their holiday spending," said Gareb Shamus, of Toy Wishes, an industry magazine. But, he added, "Parents will always sacrifice themselves before they sacrifice for their kids."
Copyright 2018 The Lawrence Journal-World. All rights reserved. This material may not be published, broadcast, rewritten or redistributed. We strive to uphold our values for every story published.