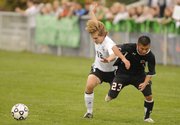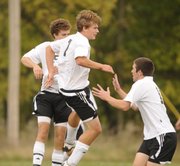 Who says a tie is like kissing your sister?
Not Lawrence High's boys soccer players, that's for sure. Not after the Lions forged a 1-1 deadlock with Free State on Monday afternoon.
"Senior Night is tomorrow night," Lions' senior Bobby Davis, "but playing against Free State is hard to beat."
Davis, son of Lawrence High basketball coach Chris Davis and also a member of the basketball team, scored the Lions' lone goal about 12 minutes into the second half.
Coach Matt Anderson called it a "trash" goal because Davis, who plays one of the defender slots, was in front of the goal mouth and cleaned up on a corner kick.
"That's been happening so much against us this season," Anderson said. "Luckily, he stuck it in there for us."
Goals are rare for defenders, so Davis was basking in the moment.
"Being Lawrence-Free State, being a senior and being a defenseman," Davis said with a smile, "it doesn't get any better than that."
Free State's only goal occurred about a dozen minutes into the first half when senior Dale Shillington drilled Tony Libeer's corner kick past goalkeeper Sean Simmons.
Free State led 1-0 until Davis snaked his shot past Ethan Morton-Gaught in the Firebirds' goal. Neither team scored again during the last 28 minutes of the second half, or in the two 10-minute overtime periods.
After the 60 minutes of soccer finally concluded in the gloaming at Free State's field, it was clear the Lions considered this one a victory, while the Firebirds felt like they had lost.
"This feels good," Anderson said. "(Free State) has had some quality results this season, and I think we showed pretty well. I liked our energy, our speed of play."
Free State coach Jason Pendleton liked the play of his team during the first 20 minutes, but then wondered why his players lost their stingers.
"We didn't deserve a tie," Pendleton said. "They outplayed us from an emotional and physical standpoint. After the first 20 minutes, they dominated us."
Lawrence High entered with a 4-9 record. The Lions were coming off a 6-0 loss to Shawnee Mission East that Anderson admitted was "not pretty." Earlier this fall, Free State had posted a 2-2 tie against SM East.
"Unfortunately, I think that was a factor," Pendleton said. "These kids see the Internet and read the paper, and they're saying, 'We should have beat Shawnee Mission East, so we're gonna blow 'em up."
Lawrence High's final home game will be at 7 p.m. today at Youth Sports Inc. fields against Olathe South. The Lions' regular-season finale will be Thursday at SM South.
Free State, sitting on an unusual 5-4-5 record, will play at Olathe North tonight, then conclude at home Thursday against SM Northwest.
Class 6A sub-state competition will begin a week from today.
Copyright 2018 The Lawrence Journal-World. All rights reserved. This material may not be published, broadcast, rewritten or redistributed. We strive to uphold our values for every story published.