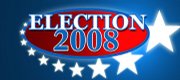 In-depth coverage of the candidates and the issues, all leading up to the Aug. 5 primary and the Nov. 4 general election.
Substitutes Needed
Douglas County Clerk Jamie Shew says he has about 600 poll workers scheduled to work the Nov. 4 general election. His office is still looking for substitutes, and anyone interested can call (785) 832-5182.
Advance voting began Wednesday at the courthouse, 1100 Mass., and voters must be registered by the end of the day Monday to participate in the presidential election.
Jack and Ava Lea Denton see their jobs - with hundreds of other Douglas County poll workers - as a necessity.
"I really believe that we have a privilege to vote, and I think people should be able to do that," said Ava Lea Denton, a retired Lawrence school district health secretary.
She and her husband, retired from the Lawrence Paper Co., have helped voters cast their ballots in several elections for more than eight years.
They started out working the polling booths near their southeastern Lawrence home at Kennedy School.
They currently work on Election Day at the polling place at Good Shepherd Lutheran Church, 2211 Inverness Drive. Like the nearly 600 other poll workers in the county, the Dentons are gearing up for a busy Nov. 4 general election.
The past few nonpresidential elections since 2004 have had less than an impressive turnout.
"It makes for a long day," said Jack Denton, who continues the occasional work even after having back surgery.
Douglas County Clerk Jamie Shew said the county has several dedicated poll workers who have been dependable for several years. His office is satisfied they have been able to gather about 600 poll workers, nearly double for a normal election, to handle the anticipated heavy turnout this November. Shew is still looking for substitutes, however.
The job pays $85 for poll workers and $100 for a supervising judge.
All communities and townships across the county rely on workers to make the polling places run smoothly.
Eudora resident JoAnn Becker, 72, has been working with the elections for about three years and said it makes her feel more connected to a community in which she already has invested much of her time. She retired from the city of Eudora in 1998 after working 30 years there.
"I've always served people," Becker said. "I just enjoy serving our country, our state and our government."
Longtime Baldwin City residents Danny and Becky McMillen have logged 26 years of working the polls on Election Day. Through thousands of voters, there are two types they both love to see.
"We both are proud of first-time voters and how excited they are," Becky McMillen said. "We also love to see the 100-year-old voters."
Ava Lea Denton, of Lawrence, said she notices how voters often seem proud to participate in the democratic process.
"There are countries that people don't have this freedom and don't have this privilege," she said. "If they get to say anything, the government manages it. It is a privilege for us."
Copyright 2018 The Lawrence Journal-World. All rights reserved. This material may not be published, broadcast, rewritten or redistributed. We strive to uphold our values for every story published.