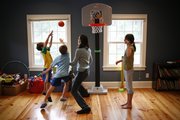 Get organized!
Tips from Betsy Six on staying on top of family, work and more:
¢ My husband and I do use the Google calendar. It allows us to access a shared calendar from work or home.¢ E-mail also helps us coordinate who is doing what, with a written record we can refer to later. I particularly like e-mail because it allows me to communicate with my husband without worrying about interrupting him during his day.¢ We also try (not always successfully) to get the kids to help. They are responsible for putting their backpacks and lunchboxes away and putting their homework in certain places.
Every day, Betsy Six knows her children learn a little more about the huge world around them. And it's not just from classwork or reading - it's because they attend Hillcrest School, which serves as one of the Lawrence school district's English as a Second Language sites.
"It's hard to even express all of the benefits of it," says Six, who serves as president of Hillcrest's Parent Teacher Organization. "It exposes you to the world at a very early age in a very real way.
"My kids think it's horrible that we only speak one language."
Hillcrest is more than the school that three of her children - Emily, 10, Sam, 8, and Henry, 6 - attend. It's also the school where Six learned some life lessons of her own as a child.
"Being 8 and having friends from all different countries and religions and shapes, colors, sizes is something that you can't replace at some later time," she says. "It helps people appreciate diverse culture and become more tolerant in a way that I think is unique."
Her involvement with Hillcrest's PTO has grown with her children.
"It's been a great way for me to know what they're doing and what's going on in the school," she says. "Once you start going you just kind of get sucked in."
Six's volunteer work has included helping in Hillcrest classrooms and serving as her daughter's Girl Scout troop leader. But as a parent of four, including 3-year-old son Will, she realizes it can be challenging to find time to get involved.
As a mom who has worked part time since the birth of her first child, Six knows the push and pull between career and family. She said her current job, as a lawyering instructor at Kansas University's School of Law, offers an easier fit than her previous work at a Kansas City law firm.
"One of the challenges is that you feel you don't do either job well," she said. "You aren't a good mother, but you also don't give enough time to your job. But I feel that less teaching. My job is a part-time job. I don't do it on a part-time basis."
However, the g-word is always lurking.
"Your kids want you all the time and they make you feel guilty when you're not there all the time. We all have a tendency to agree with that guilt even though we know that it's not realistic and we know they're fine without us," she said. "As they've gotten older it's gotten easier."
She also realizes she has been lucky to be able to choose whether and how much to work, because money didn't weigh into the family's decision. The Wednesdays, Thursdays and Fridays she spends at work offer her a chance to interact with adults and use her education.
"I feel like I'm a better parent because I've had time away. I come back more refreshed," Six said. "I'm better in the evenings when I've been at work than the days when I'm home with them."
Evenings are also made easier thanks to her husband, Steve, who cooks dinner every night for the family when he's not busy with his duties as Kansas attorney general.
"I think that's in part in why I have four children, because I have a helpful husband," she said. "Most women don't have as helpful a husband as I do."
Together she and Steve enjoy watching their kids grow and learn, Six said, and are continually entertained by the roller coaster that is parenting.
"So much of it is out of your control," she said. "You try to teach the children things, to shape them, to mold them. I have four children and see how different they are. It makes me realize how much is out of my control. And that's frightening. It's also what makes it so interesting and challenging and exciting."
Copyright 2017 The Lawrence Journal-World. All rights reserved. This material may not be published, broadcast, rewritten or redistributed. We strive to uphold our values for every story published.