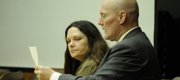 Ramona Morgan was found guilty of killing two men and injuring a third when she drove her truck through a construction zone on U.S. Highway 59 south of Lawrence on Sept. 11, 2007.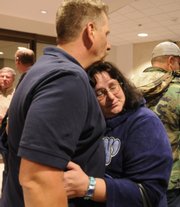 After being scolded by a judge because she wasn't listening to victims' family members, Ramona Morgan was ordered Wednesday to serve 26 years in prison for running over and killing two highway workers in 2007.
Morgan, 49, was convicted last September of two counts of reckless second-degree murder. A 12-person jury found she was responsible for the Sept. 11, 2007, deaths of Ty Korte, 30, and Rolland Griffith, 24. The workers were hit and killed by Morgan's pickup truck in a U.S. Highway 59 construction zone near Pleasant Grove, which is south of Lawrence.
The Chewelah, Wash., woman was ordered to serve consecutive prison sentences of 190 months and 117 months for the two murder convictions and eight months in prison for an aggravated battery conviction for injuring a third worker, Curtis Delzell.
"We did get what we asked for. It was pretty much the most that we could get with these charges," said assistant Douglas County district attorney David Melton, who prosecuted the case with assistant district attorney Eve Kemple. "We wish we could've gotten more."
As the victims' family members were delivering tearful comments before the sentence was handed down, Morgan sat with the back of her chair turned slightly away from those speaking. At one point, Douglas County District Judge Paula Martin interrupted a speaker and told Morgan she needed to listen to the comments.
But, Morgan barked back, "I'm not guilty, and I don't want to listen to it."
Dozens of family, friends and Kansas Department of Transportation workers packed the courtroom. Many said they were disgusted by Morgan's demeanor in court.
"She still has no remorse for anything," said Mark Griffith Sr., Rolland Griffith's father, after the sentencing. "At least we got the maximum that we could get on it."
During Wednesday afternoon's hearing, Martin denied several motions filed by Morgan's attorney, Billy Rork, of Topeka. Rork asked a new trial be granted - or the verdicts thrown out altogether. Rork claimed several elements of the trial unfairly prejudiced the jury against his client.
During the jury trial, Kansas Highway Patrol troopers testified that Morgan accelerated up to 51 mph when she hit the two workers south of Lawrence. Witnesses also testified that Morgan drove through the 2-mile work zone twice that morning, narrowly missing some workers while driving north and then making the fatal strikes while headed south.
Morgan said a gang of robbers was harassing her as she was trying to drive from central Missouri to Washington. She said that when a construction worker started banging a stop sign on her truck she thought she was under attack. Morgan said she hit the gas out of fear and continued south through the construction area. She contended her pickup struck orange barrels, not people.
In addition to Wednesday's sentence, Morgan also has an Osage County felony conviction for eluding law enforcement, stemming from a chase after she struck the two highway workers. Kemple said Morgan also has other misdemeanor convictions in Washington state.
A civil lawsuit has been filed against her by Amanda Hopper, a construction worker who hit Morgan's truck with a stop sign Sept. 11, 2007. Hopper's claiming she was injured when Morgan's truck struck her. A court date has not been set. Prosecutors did not file criminal charges against Morgan in connection with Hopper's injuries.
Copyright 2018 The Lawrence Journal-World. All rights reserved. This material may not be published, broadcast, rewritten or redistributed. We strive to uphold our values for every story published.