Photo Gallery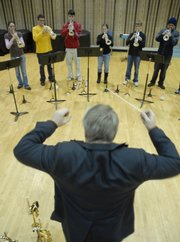 Dominant foreground, contributing background
For my next several "Behind the Lens" columns, I will explore visual devices that should be a part of most photographers' "tool kit."
Used individually or in combination, these devices can add impact and interest to photographs. This checklist is courtesy of Ohio University School of Visual Communication director Larry Nighswander.
¢ Dominant foreground, contributing background
¢ Framing
¢ Reflection
¢ Juxtaposition
¢ Decisive moment
¢ Linear perspective
¢ Silhouette
¢ Introducing disorder into an ordered situation
¢ Introducing color into a monochromatic scene
¢ Rule of thirds composition
¢ Selective focus
¢ Panning
This week - dominant foreground, contributing background.
A photograph is a one-dimensional object. It's flat. Lots of times your subjects will even look flat and boring.
Yet by using this visual device, a photographer can begin to create depth to an image.
A dominant element in the foreground that relates to a background layer of information gives a viewer a sense of space. This space and perspective creates a new dimension to the photo. I'll call that dimension - not boring! So think in layers when framing your photographs and enter a new dimension.
Copyright 2018 The Lawrence Journal-World. All rights reserved. This material may not be published, broadcast, rewritten or redistributed. We strive to uphold our values for every story published.