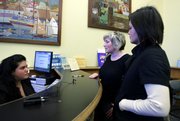 Los Angeles — Voters put a stop to same-sex marriage in California, dealing a crushing defeat to gay-rights activists in a state they hoped would be a vanguard and putting in doubt as many as 18,000 same-sex marriages conducted since a court ruling made them legal this year.
The gay-rights movement had a rough election elsewhere as well Tuesday. Amendments to ban gay marriage were approved in Arizona and Florida, and Arkansas voters approved a measure banning unmarried couples from serving as adoptive or foster parents. Supporters made clear that gays and lesbians were their main target.
But California, the nation's most populous state, had been the big prize. Spending for and against Proposition 8 reached $74 million, the most expensive social-issues campaign in U.S. history and the most expensive campaign this year outside the race for the White House. Activists on both sides of the issue saw the measure as critical to building momentum for their causes.
"People believe in the institution of marriage," Frank Schubert, co-manager of the Yes on 8 campaign, said after declaring victory early Wednesday. "It's one institution that crosses ethnic divides, that crosses partisan divides. ... People have stood up because they care about marriage and they care a great deal."
With almost all precincts reporting, election returns showed the measure winning with 52 percent of the vote. An estimated 2 million to
3 million provisional and absentee ballots remained to be tallied, but based on trends and the locations of the votes still outstanding, the margin of support in favor of the initiative was secure.
Leaders of the No on 8 campaign said they were not ready to concede.
"Because Prop 8 involves the sensitive matter of individual rights, we believe it is important to wait until we receive further information about the outcome," Geoff Kors, director of Equality California, said in a statement Wednesday.
Exit polls for The Associated Press found that Proposition 8 received critical support from black voters who flocked to the polls to support Barack Obama for president. About seven in 10 blacks voted in favor of the ban, while Latinos also supported it and whites were split.
Californians overwhelmingly passed a ban on same-sex marriage in 2000, but gay-rights supporters had hoped public opinion on the issue had shifted enough for this year's measure to be rejected.
"We pick ourselves up and trudge on," said Kate Kendell, executive director of the National Center for Lesbian Rights. "There has been enormous movement in favor of full equality in eight short years. That is the direction this is heading, and if it's not today or it's not tomorrow, it will be soon."
The constitutional amendment limits marriage to heterosexual couples, nullifying the California Supreme Court decision that had made same-sex marriages legal in the state since June.
Similar bans had prevailed in 27 states before Tuesday's elections, but none were in California's situation - with about 18,000 gay couples already married. The state attorney general, Jerry Brown, has said those marriages will remain valid, although legal challenges are possible.
Despite intense disappointment, some newlyweds chose to look on the positive side, taking comfort that millions of Californians had voted to validate their relationships.
"I'm really OK," said Diana Correia, of Berkeley, who married her partner of 18 years, Cynthia Correia, on Sunday in front of the couple's two children and 80 relatives and friends. "I hope the marriage holds, but we are already married in our hearts, so nobody can take that away."
Copyright 2017 The Associated Press. All rights reserved. This material may not be published, broadcast, rewritten or redistributed. We strive to uphold our values for every story published.