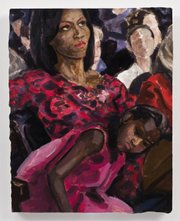 Chicago — Despite a grueling campaign schedule that took her from one end of the country to the other, Michelle Obama managed to maintain an equally hectic schedule in Chicago that included soccer, ballet and birthday parties for her two young daughters.
For Obama, a self-described "multitasker," life has been a balancing act between family and duty, and those who know her best said that will not change when she becomes first lady.
"She has incredible integrity. Whatever she strongly believes in, she puts everything into it. And she is very passionate about family," said Yvonne Davila, a former City Hall co-worker and friend for 18 years.
Like first lady Laura Bush, Obama has surrounded herself with a small circle of girlfriends - doctors, lawyers and businesswomen who not only provide a support system but also keep her grounded. And like Bush, who still takes yearly vacations to a national park with her girlfriends, Obama will likely maintain those close bonds when she moves into the White House.
During the presidential campaign, Obama and Davila kept their Saturday morning routine. Davila took Obama's 7-year-old daughter, Sasha, and her own 9-year-old daughter to dance class while Obama drove Malia, 10, and Davila's 10-year-old daughter to soccer. Afterward, they met for lunch and sometimes a movie.
"Like all of us, she juggles her job as a wife and mother, and she will take that with her to Washington," Davila said.
Throughout the campaign, Obama has stressed her commitment to her children and has used her experience as a wife and mother to connect with families across the country. She has said that as first lady, she would provide a voice for working women and military families in particular, ensuring that they receive adequate health care, mental health services and economic support.
"What I'm hearing around the country is that there are women who are struggling to keep their heads above water. And these issues transcend party and even socioeconomic status," Obama said recently on CNN's "Larry King Live." "We need to give those issues a voice because I think women need a different model, a template, ensuring that we're creating policies that actually make sense."
The Obamas will be the fourth family with children under age 10 to occupy the White House. And like Jacqueline Kennedy, Frances Cleveland and Edith Roosevelt, she will have to balance her duties as first lady with raising young children.
That means creating a comfortable home within the White House.
"That will probably be the first order of business for her and maybe the most important thing, creating a sense of emotional security for her family," said Carl Sferrazza Anthony, a biographer and historian for the National First Ladies Library in Canton, Ohio.
"These kids will be moving from Chicago, leaving behind their school, their friends and their established life. That can be overwhelming."
A Harvard-educated lawyer who has worked in City Hall and for the University of Chicago Hospitals, Obama will bring a high level of professional expertise to her new role. She often has been compared to Hillary Clinton, who was criticized for taking on health care reform and failing.
Though she has made mistakes along the way, Obama has grown increasingly comfortable speaking to large audiences about policy. She will have to make a choice as to how far she wants to go.
But whatever role she decides on, friends said Obama will pour her heart into it.
"One of Michelle's strengths is being prepared," Valerie Jarrett, a senior campaign adviser and longtime family friend said in an interview several months ago. "It's not good enough to be prepared; she has to be over-prepared. She is (one of) the most disciplined and organized people I have ever known."
Copyright 2018 The Lawrence Journal-World. All rights reserved. This material may not be published, broadcast, rewritten or redistributed. We strive to uphold our values for every story published.