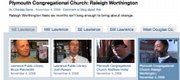 Voters throughout Douglas County share their Election Day thoughts.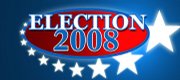 In-depth coverage of the candidates and the issues, all leading up to the Aug. 5 primary and the Nov. 4 general election.
-->
-->
-->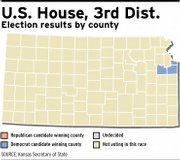 Topeka — Democratic Rep. Dennis Moore won re-election in the 3rd Congressional District over Republican challenger Nick Jordan.
With 581 of 603 precincts reporting early this morning, Moore led Jordan 56 percent to 40 percent.
In Douglas County, Moore won 70.22 percent of the vote.
Moore, seeking his sixth term, was the only member of the state's delegation to support the recently enacted $700 billion financial industry rescue package, and his support became a key issue in his race.
Moore said the rescue plan was necessary to shore up the economy, but Jordan favored "free-market" ideas, such as suspending the federal tax on capital gains.
"Our economy is facing many challenges, but there are steps that we can take," Moore said in response to a question from the Journal-World about the nation's economic woes.
Among those steps, he said, are decreasing "the federal debt : providing relief to hard-working families (including efforts to stabilize the current housing market and provide relief through the stimulus package) and developing a comprehensive energy package that will reduce our dependence on foreign oil, lowering gas prices and promoting new industries for American businesses and workers."
Moore, a former Johnson County district attorney, was first elected to the 3rd District seat in 1998.
Jordan, a small-business owner in Shawnee and a state senator, was making his first run for federal office.
The district includes east Lawrence and Johnson and Wyandotte counties.
Other races
Republican incumbent Todd Tiahrt claimed an eighth term in the 4th Congressional District.
With 507 of 568 precincts reporting early this morning, Tiahrt had 63 percent of the vote, easily outdistancing Democrat Donald Betts, a state senator from Wichita.
Tiahrt is the senior member of the Kansas delegation in the House.
He first was elected in 1994, when he unseated longtime Democratic incumbent Dan Glickman.
Betts has been a state legislator since 2003.
The state's other incumbent, Republican Rep. Jerry Moran, defeated Democrat challenger Jim Bordonaro in the 1st District.
Moran had the widest margin of victory, winning more than 82 percent of the vote. Moran was first elected to the House in 1996.
Copyright 2018 The Associated Press. All rights reserved. This material may not be published, broadcast, rewritten or redistributed. We strive to uphold our values for every story published.