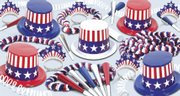 Whether you're celebrating, biting your nails or drowning your misery, why not sweat out Tuesday's election returns with friends?
After a long and tense campaign season, people are ready to celebrate - or, at least, to have the sting of defeat leavened by good food and friendly faces.
The message boards at Chow.com have been buzzing lately with talk of "election party" menus, says Aida Mollenkamp, the site's food editor and host of the Food Network's "Ask Aida." With a bit of planning, you can throw a memorable party that won't leave your budget in need of a $700 billion bailout.
¢ Reach across the aisle and invite friends with a mix of political views, says Sherri Foxman, founder and CEO of Party411.com. But only invite grown-ups.
"The kids are tired of hearing about this already," she says via e-mail, and "the real reporting doesn't even start until 9 p.m." Given the late hour, you may want to invite friends to stay overnight if you have space for them.
¢ Stop wasteful spending by using anything you already own that's red, white or blue, says entertaining expert and HGTV host Erinn Valencich.
"If you have a blue vase, put white flowers in it with a red table cloth. Everything doesn't have to have a flag on it," she says. (That said, leftover paper plates and napkins from 4th of July can be thrown into the mix.)
Gather up any patriotic Beanie Babies or donkey and elephant toys from around the house (yes, Eeyore and Babar will do in a pinch). Use them as a centerpiece, with a few sample ballots tucked underneath. This party, says Valencich, "can be really elegant or as kitschy as you want it to be."
Don't forget to decorate your guests. Items like patriotic skimmer hats or red and blue boas make for great pictures, Foxman says. You can order these and other supplies as late as Monday morning from Party411.com, says Foxman, if you don't mind the charge for overnight shipping. Or browse the offerings at your local party store.
¢ Defuse political tensions by focusing on the presidency, rather than the candidates.
Play presidential charades or trivia games about presidential history, and let people come in costume as a past or future president if they want to. Winning or losing, says Valencich, "I'm sure some people will also be playing drinking games."
Create a ballot box where guests can vote on, say, the best impersonation of a past president. Or have guests write the campaign slogan they'd use if they were running, then have everyone vote for their favorites, say Foxman.
Have at least one television or computer monitor in the main party space to follow the coverage. Give some thought to which channel you'll watch. Or alternate between several, perhaps showing MSNBC and Fox, with a dash of CNN.
¢ Stay on message and choose a theme for your buffet. Mollenkamp says the candidate's states, Arizona and Illinois, are both home to party-friendly comfort food.
If you like Chicago's deep-dish pizza, have guests assemble their own pizzas on premade crusts then put them under your broiler (or, well ... order out for some). Another favorite: Cracker Jack was introduced at the Chicago World's Fair in 1893.
Authentic northern Mexican food is popular in Arizona, Mollenkamp says. Try making open-faced quesadillas with jack cheese and pepper. And don't forget the swing states. Ohio has Cincinnati's "skyline chili," which is easy to make and great for serving a crowd.
¢ Raise a glass. Signature cocktails add style to a party. Create your own, or surf online for ideas. Counter, a New York City bistro and bar, has created an Obama Mama (white rum, spiced rum, coconut milk and mashed blueberries) and a Maver-Ricky (Bluecoat American gin, lime, soda) for this election season.
Foxman suggests creating separate Democrat and Republican menus, complete with red and blue foods (use food coloring if you have to, she says). Display them on opposite sides of the table, then see which guests cross party lines to indulge.
Your one splurge, says Mollenkamp, can be champagne for celebrating victory. And have several pints of gourmet Rocky Road ice cream and a few spoons on hand to comfort the losers.
Copyright 2018 The Associated Press. All rights reserved. This material may not be published, broadcast, rewritten or redistributed. We strive to uphold our values for every story published.