More State House of Representatives races
Breaking Political News
Want to be among the first to know about news on the Nov. 4 election? As soon as results are in, or whenever breaking political news happens, the news will be in your e-mail or on your cell phone - you choose.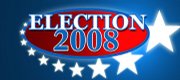 In-depth coverage of the candidates and the issues, all leading up to the Aug. 5 primary and the Nov. 4 general election.
A businesswoman and a pastor are vying for the 53rd District seat in the Kansas House of Representatives.
The incumbent, Democrat Ann Mah, Topeka, was first elected in 2005. She is the owner of Discover! Strategies, a company that provides speaking, consulting and training services.
Mah is being challenged by Cecil Washington, a Topeka clergyman and Republican who is an assistant chaplain for the Topeka Police Department and a chaplain for the Kansas House of Representatives.
Both expect the state budget will dominate legislative discussions next year.
The state government should be able to save money by finding and cutting duplication of services, according to Mah. She supports Gov. Kathleen Sebelius' opposition to proposals for two new coal-fired power plants in western Kansas.
Washington favors the power plants, saying there is no study showing they will cause any substantive pollution. The plants will benefit the state by bringing billions of dollars to the economy and providing thousands of jobs.
As for the budget, Washington said there should be "wise, transparent, responsible use of current income."
Mah said she would support a small increase in the cigarette tax to help pay for health coverage. Washington said he would need to study that issue further.
The 53rd District includes much of Shawnee County and Marion, Clinton and part of Wakarusa townships in Douglas County.
Copyright 2018 The Lawrence Journal-World. All rights reserved. This material may not be published, broadcast, rewritten or redistributed. We strive to uphold our values for every story published.