More State House of Representatives races
Breaking Political News
Want to be among the first to know about news on the Nov. 4 election? As soon as results are in, or whenever breaking political news happens, the news will be in your e-mail or on your cell phone - you choose.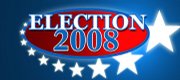 In-depth coverage of the candidates and the issues, all leading up to the Aug. 5 primary and the Nov. 4 general election.
The House District 45 race features a veteran lawmaker, Republican Tom Sloan, facing a political newcomer, Democrat John Wilson.
And the main issue in the campaign has been the proposed construction of two 700-megawatt coal-fired power plants in southwest Kansas.
Sloan repeatedly supported the project during the past legislative session. Wilson says he would have voted against it.
"I'm disappointed with Tom Sloan's vote on that, and there are quite a few people disappointed with that as well," Wilson said.
Wilson said the state needs to focus on a more long-term energy policy. He also criticized the Legislature for spending so much time on the coal plants and so little on health care reform.
Sloan, a seven-term incumbent, said he voted for the coal project because coal is a crucial part of the power mix in Kansas, and the legislation also included provisions to increase renewable energy.
In announcing his re-election bid, Sloan said that he wanted to continue working on renewable energy, sustainable water resources, public safety and health-care delivery - "because I believe that developing responsible, progressive public policies is critically important to the progress of our region and the state."
On the coal project, the city of Lawrence officially opposed it, and many of the environmentalists who opposed the proposal live in Douglas County. Gov. Kathleen Sebelius' administration rejected the project based on its annual emission of 11 million tons of carbon dioxide, blamed by many for climate change.
Attempts by supporters of the project to overturn the administrative rejection were vetoed by Sebelius.
Wilson graduated from Kansas University in 2006 and is national youth mobilization manager for the Alliance for a Healthier Generation, a nonprofit group that focuses on reducing obesity in children.
Sloan is a self-employed strategic planning facilitator.
The district covers much of western Lawrence and northwestern Douglas County.
Copyright 2018 The Lawrence Journal-World. All rights reserved. This material may not be published, broadcast, rewritten or redistributed. We strive to uphold our values for every story published.