Photo Gallery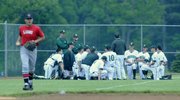 LHS vs. FSHS at State Quarterfinals
Topeka — The only Lion who failed to reach base during Friday's 4-3 victory over Free State will be responsible for keeping Blue Valley off the base paths today.
Lawrence High junior Dorian Green takes the mound at 10 today for the eighth-seeded Lions against fifth-seeded Blue Valley. Both teams will be vying for a spot in the state title game.
LHS (12-10) enters the contest on the heels of a thrilling 4-3 victory over city rival and top seed Free State. Blue Valley (17-6) advanced to the semifinal with a 9-2 victory over No. 4 Wichita North.
LHS coach Brad Stoll said both teams had reason to feel confident heading into the semifinal showdown.
"They like their No. 2 starter and we like ours," Stoll said. "It should be a fantastic ballgame."
Green will climb the hill looking to atone for the loss he suffered last season in the same spot.
Despite finishing Friday 0-for-4 from his position in center field, the LHS junior said he was confident heading into the next round, largely because of what he saw from LHS ace Tom Schuh in the opener.
"Tommy's been our ace all year and he did a great job today," Green said. "He set the tone for the whole weekend with what he did today. I learned a lot from him."
Schuh, the Lions' round-one starter, threw a complete-game, seven-hitter to pick up the victory on Friday.
With the win, Schuh improved to 6-4 on the season.
When he takes the mound today, Green will be looking for his fourth victory of the season.
He carries a 3-2 record, 2.60 earned-run-average and team-high 38 strikeouts into the semifinal.
In addition, Green has logged 43 innings, surrendered 38 hits and walked just 17 batters.
Schuh's performance against Free State lowered the Lions' team ERA from 2.30 to 2.22.
Also available out of the bullpen today is all-state closer Joe Kornbrust, who leads the team with five saves and possesses a 0.72 ERA with 19 strikeouts in 191â3 innings of work.
Copyright 2018 The Lawrence Journal-World. All rights reserved. This material may not be published, broadcast, rewritten or redistributed. We strive to uphold our values for every story published.