Photo Gallery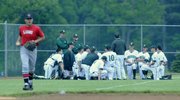 LHS vs. FSHS at State Quarterfinals
Topeka — No. 1 wasn't supposed to be one-and-done at the Class 6A state baseball tournament.
But as Free State High shortstop Hunter Scheib lay face down in the dirt between second and third base after making the last out - with joyous Lawrence High players stampeding toward the pitcher's mound - the fact became painfully clear: It really was all over for the top-seeded Firebirds, knocked out in devastating fashion just hours after beginning their presumed march toward the title.
Free State lost, 4-3, to the eighth-seeded Lions in the first round of state on Friday afternoon at Hummer Park, two weeks after beating LHS twice on consecutive days - showing just how difficult it is to dispatch an opponent three times in one season.
"It's very tough, obviously," Firebirds coach Mike Hill said. "It is a difficult task, but it was the task we were given, and it just didn't get done."
The Firebird players were expectedly downtrodden as they waited in the parking lot to load the team vans following the defeat, perhaps none more so than Scheib. The senior was involved in a baserunning mix-up that resulted in a bases-loaded rundown and the final out of the game.
With Free State trailing 4-1 with two outs in the seventh inning, John Wilson's single to right field scored Nick Hassig and would have left the bases loaded. But Scheib, who was on second base, continued running until he stood next to Jordan Dreiling at third. Dreiling eventually scored during the rundown, as Scheib had no choice but to retreat and was tagged out by Lions third baseman Clint Pinnick.
Scheib called the sequence a miscommunication between he and Hill, who was the third base coach.
"I thought I saw him waving Jordan in, and me being the tying run, I wanted to get to third since (the Lions) threw it to home," Scheib said. "So, I ran over there, but I guess I didn't see it right."
While it was the most glaring miscue for the Firebirds, it wasn't the only problem.
Of Free State's seven hits, none of them went for extra bases.
The Firebirds also failed to score after loading the bases with one out in the first inning.
Still, Hill said he wasn't surprised his team made one final push.
"There was no doubt that we were going to make some noise," he said. "It's just, would it be enough? And unfortunately in our case, it wasn't."
Free State, which blew through most opponents this season while averaging close to nine runs a game, finished its season at 19-3.
"It was a wonderful, wonderful year," Hill said. "The bar is extraordinarily high in our program. So these kids, despite all their accomplishments, they're down because they wanted to win the state championship. It has nothing to do with who beat us. This has nothing to do with a city game. It's about trying to win the ultimate prize. Like all things, it'll take a few days, and they'll go through some pains. Then, they'll be able to look back and feel real good about what they accomplished."
Copyright 2018 The Lawrence Journal-World. All rights reserved. This material may not be published, broadcast, rewritten or redistributed. We strive to uphold our values for every story published.