On the street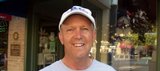 Absolutely. We just bought a boat in November, and we have about 13 life jackets on board.
-->
If you are going out on a boat this Memorial Day weekend, you better have a life jacket readily accessible.
That's the law, and officers from the Kansas Department of Wildlife and Parks will not be giving any warnings this season. The ticket books are coming out.
"We are, in effect, taking a zero-tolerance policy when it comes to life jacket or personal floatation device laws," KDWP natural resources officer Aaron Henrichs said.
Last winter, KDWP boating law administrator Dan Hesket issued a directive to officers to write the tickets because of the number of boating accidents and fatalities in the state in recent years.
Officers frequently check boats and find that while life jackets may be aboard, they often are stowed. The law doesn't require a person to wear one, but it has to be accessible.
"In a given day, if I check 10 boaters, eight would have life jackets stowed and not accessible," Henrichs, who works in Douglas County, said.
In addition to boating accidents, there were nine drownings last year in Kansas waters, Henrichs said. One of them occurred at Clinton Lake when a swimmer drowned.
In 2007, statewide boating accidents were actually down. There were 26 in 2007 and 42 in 2006. But fatalities in boating accidents have been increasing - from two in 2004 to six in 2007.
Damage from Kansas boating accidents in 2007 amounted to $82,550. About half of that amount was the result of a fire that sank a houseboat on Clinton Lake.
Clinton Lake was the site of three boating accidents in 2007, but there were no injuries.
Last weekend at Clinton Lake, four tickets were issued because children were not wearing life jackets. The law requires children to wear life jackets at all times. Tickets are issued to the parents. Boat owners are issued tickets for each life jacket that is not accessible to adults. Fines are $50 for the first inaccessible jacket and $25 for each additional jacket. Court costs are $66.
A boat at Clinton Marina recently was prevented from going out on the water when it was determined that there were only three life jackets aboard for eight people, Henrichs said.
"We wouldn't let them get on the boat until they found additional life jackets," he said.
Seat cushions can be used as floatation devices, but cushions and jackets must have a label showing they have been approved by the U.S. Coast Guard, Henrichs said. They are the equivalent of seat belts in a car, he said.
"If you are thrown from a boat, you will hit as hard as if on pavement," he said. "If you are unconscious you will drown, not lay there until an ambulance arrives."
Water accidents and deaths in area
Kansas boating fatalities
2007: 62006: 52005: 42004: 2
Clinton Lake
2007: Three boating accidents involving three boats; no fatalities and no injuries. One swimmer drowned at Clinton Lake.
Perry Lake
2007: Four boating accidents involving seven boats; one fatality, one injury.
Kansas River
2007: Two boating accidents in the northeast region involving three boats; three fatalities. None in Douglas County.
Copyright 2018 The Lawrence Journal-World. All rights reserved. This material may not be published, broadcast, rewritten or redistributed. We strive to uphold our values for every story published.