Photo Gallery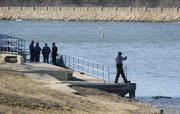 Lone Star Lake
A man died at Lone Star Lake just before 1 p.m. Saturday after falling into the frigid lake.
The 67-year-old man from Illinois was in a small fishing boat with a 46-year-old man from Eudora. Douglas County was under a wind advisory until 4 p.m. Saturday, and wind gusts were reported up to 40 mph. The strong wind caused high waves that began to fill their boat with water, said Kari Wempe, the Douglas County Sheriff's spokeswoman.
"The boat went down quickly," she said.
The two men yelled for help, but they had trouble swimming to shore because of the cold water, said Aaron Henrichs, a conservation officer for the Kansas Department of Wildlife and Parks.
He said the water was 36.9 degrees.
"It's the first nice day of the year, and people want to get outside," Henrichs said. "People are fishing for crappie all year. It's to be expected people are fishing, but with water that cold," it could be dangerous.
Bystanders, including relatives of the two men, assisted them out of the water. They had been boating near the lake's marina. Wempe said bystanders were able to get the Eudora man, who survived, out of the water. Another young man jumped into the water and assisted the Illinois man out of the water. A bystander began CPR on him and continued until the first emergency responders arrived, Wempe said.
"Despite everyone's efforts, he was not able to be resuscitated," Wempe said.
The Douglas County Sheriff's Office, Lawrence-Douglas County Fire & Medical and Kansas Highway Patrol all assisted.
The Eudora man was treated and released on the scene, Wempe said. Neither the names of the two men nor their relationship was released Saturday.
Henrich said the men were not wearing life jackets.
"I'm gratified to see that so many people were willing to take a risk and put themselves in there and come to the aid of someone," Wempe said.
One man, Holden White, 77, Lawrence, was fishing for crappie on his boat at the lake about 11 a.m. and saw the two men in their boat. He said when it got too windy he decided to return his boat and fish on shore.
"The waves were so high out here, that I'm going to say they were almost 3 foot high," White said. "My boat was big enough to put it on, but I was by myself, and I just didn't want to battle the waves."
Copyright 2018 The Lawrence Journal-World. All rights reserved. This material may not be published, broadcast, rewritten or redistributed. We strive to uphold our values for every story published.