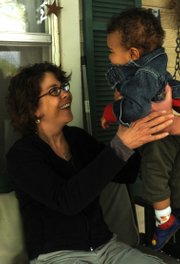 Henry and Tasha Wertin's indoctrination into parenthood wasn't quite what they thought it would be.
For three years, the Lawrence couple had tried to conceive. Doctors couldn't figure out what was wrong. And the cost and uncertainty of an adoption agency didn't seem worth it. So they decided to become foster care parents.
They took the classes, made the necessary changes to their home and went through background checks.
Then they were handed a 4-year-old boy.
"You long for a baby when you are trying to get pregnant, that is all you can think of is an infant. When a 4 1/2-year-old is placed in your care, in your mind that is a really scary thing," Tasha said.
Just like any child, the transition from foster family to what Wertin calls a "forever" family came with its own set of stages: the honeymoon phase, the child-testing-his-parents phase and the final phase of knowing that the boy was indeed their son.
"There is nothing better ... than knowing you love them like a biological child," Wertin said.
Three years after embarking on the process to become foster parents, the Wertins have four foster care children ages 2 months to 6 years. Two of the children are adopted and the process has just started for another. It's a mix that means juggling court hearings and doctor visits.
"There's never a dull moment," Wertin said.
Parents needed
As of March, 54 children were in foster care in Douglas County and 5,541 in Kansas.
Debi Hatfield, with the Kansas Department of Health and Environment, said that foster care homes are always needed. In particular, there is a demand for families that are willing to take large sibling groups and older children.
Having more foster care families in a community means having a place for children to go so they won't have to switch schools or leave town.
"That's really very difficult for (a child) who already has trauma in their life," District Court Judge Jean Shepherd said.
More foster care families means that agencies will be able to do a better job of matching children with parents, said Erin Bailey, with KVC Behavioral HealthCare, the agency that holds the state's foster care contract in northeastern Kansas.
Foster care parents can be single and renters. But they must be at least 21 years old, complete a background check, undergo 30 hours of training, meet state licensing requirements and have a bedroom where a child could live.
In return, the state pays the foster family from $603 to $3,450 a month per child, depending on the needs of the child.
Becoming a foster family
Unlike the Wertins, Don and Michele Haider-Markel fully expected to get a 4- or 5-year-old when they signed up for foster care. Instead they got a 6-month-old and just a few hours to prepare for his arrival.
When word came down on a Friday afternoon, Michele handed a co-worker a blank check and asked her to buy everything an infant would need. Luckily they had a crib in place and friends who dropped off food the first week.
Don took the late-night shift and Michele the early morning hours.
"It was a complete 180 from our lifestyle - being able to do what you would like to do when you want to do it," Michele said. "You have to step back from that now. You have to be very planned and organized."
Matt and Molly Kuzinski's first few weeks on the job was also a trial of diapers and late nights.
They received their foster care license on a Friday and by that night they had a child for the weekend, providing respite care for another foster family.
Their next child was a newborn that they picked up from the hospital.
"Every time she moved, we woke up," Molly said. "I was tired. I'm still tired."
They have since had 16 children stay in their home - some coming in the middle of the night and leaving quickly, others staying for good.
The couple, who embarked on the foster care process four years ago, have adopted a 2-year-old and are foster parents to a 10-month-old girl.
"I think it should be really hard to let them go," Molly said. "You're probably not in it for the long haul if it isn't."
Forever family
For children in the foster care system, there are many different paths to travel before finding a stable home.
The most recent data from the Kansas Department of Social and Rehabilitation Services shows that, before leaving the foster care system, children on average had spent 18 months in foster care homes.
For those who exited the system, 63 percent were reunited with their parents, 18 percent were adopted and 9 percent had their custody turned over to a relative.
While the state's goal is to reunite the child with the parent or to turn custody over to a relative, if it's not feasible then adoption is pursued.
"Foster parents are incredible people. They love kids and take care of them often knowing that they are going back to their parents or to other families," Shepherd, the judge, said. "Some end up adopting. But that is rarely the original plan when the kids come to them."
The Wertins and Haider-Markels were given children that had a high likelihood of their parents terminating their rights. For those hoping to someday adopt, the uncertainty can be an emotional roller coaster for the foster family.
"Even though you long for your own children, you want (the parents) just as much to come around," Tasha Wertin said.
The 6-month-old the Haider-Markels were given is now a curious 18-month-old with curly black hair and an adorable smile.
The parents went for months unsure if the baby was going to be adopted. In October on Michele's birthday, they found out that the biological parents had officially given up their rights.
"We definitely got attached to him very quickly. He has a good personality, so it was hard not to," Michele said.
The couple underwent an open adoption, meaning the boy still visits his biological relatives and sees his birth parents over the holidays. And, when he is old enough, he will get a full explanation of his family history.
"It would have been a loss for us if we wouldn't have been able to adopt him. But at the same time, you want what is best for them," Don Haider-Markel said.
Copyright 2017 The Lawrence Journal-World. All rights reserved. This material may not be published, broadcast, rewritten or redistributed. We strive to uphold our values for every story published.